Best wishes on your new apartment!
You've just moved into your brand-new place. Are you looking forward to showing off your new apartment to your family and friends? Your flat should indeed have a housewarming celebration!
It's only fitting to celebrate your first significant move with your friends and family. But how do you organize an apartment-warming party while yet leaving enough room for everyone to have a good time? 
Even if you don't have much space, you can have a great house-warming party at your new home in our Kansas City luxury apartments.
Follow these tried-and-true suggestions for a party that your guests won't want to leave!
1.) Free up some space.
Small apartments may appear to be too tiny for a housewarming celebration. You may, however, complete it without feeling claustrophobic. Before you begin, examine how much space you actually have. Then come up with some ideas to free additional unused space for your apartment warming party. 
Remember that you may place jackets and purses in a bedroom by pushing back the furniture. On a nice day, you may also open the balcony doors to generate extra room for co-workers, relatives, and friends, allowing you to make the most of your available space.
2.) Look for Options.
Throwing your party in one of the building's common areas like the Clubhouse, Rooftop, and poolside is an attractive option, particularly if you're planning to invite a large group of friends and family.  
Inquire with your property manager about the procedure for throwing a party in the clubhouse of the Kansas City luxury apartments. You may need to schedule the celebration for a later date. However, you will have much greater room, and what's even better is that the clubhouses of Kansas City luxury apartments are usually equipped with BBQ grills, refrigerators, and even a kitchen. 
More room equals more liberty. You could play louder music, invite more guests, and even provide butler-served hors d'oeuvres. Your visitors will feel considerably more at ease and can move about freely. 
3.) Handpick your guests.
How many guests are coming? Be sure not to over-invite. Always take into account the size and capacity of your apartment when sending out invites. There are no rules on who you should invite to your apartment's warm-up party. 
However, if you consider inviting your new neighbors, you'll get off to a good start. A party is an excellent opportunity to meet new people in your apartment complex. It also provides the groundwork for a successful housewarming. After all, how can your neighbors complain about the noise if they're all having a good time?
 4.) Sending Invites.
For your housewarming celebration, skip the traditional paper invites. Instead, use a social networking app or Facebook Events. It is simple to set up. It also brings visitors up to date on any changes automatically. You may also allow friends to share the event with additional friends if your guest list looks a little thin. That will increase the number of RSVPs you receive.
5.) Select the Food and Drinks for Your Party.
Mini-subs, chicken wings, dips, and fruit and vegetable trays may all be found in your local supermarket. Most supermarkets also have an olive bar.
Specialty cheeses, nuts, and small pizzas are also available. If cooking isn't your thing, have your housewarming celebration catered by a local deli.
Making beverages for your apartment-warming party might rapidly add up. Concentrate on a few low-cost artisan beers and wines. One or two crowd-pleasing mixed cocktails, such as margaritas or martinis, can also be included. Hire someone to work as a bartender and server.
You might be able to schedule a sit-down lunch or dinner if your housewarming celebration is smaller than 10 guests. If you expect more than 10 people to come, however, arrange your food appropriately. Pick finger foods and snacks that are easy to prepare and will not give you a hard time serving and cleaning up afterward.
Before your party begins, double-check that your food is ready. You don't want the oven on when your guests start arriving. Then, when you're arranging your dishes, make sure they're evenly distributed throughout the apartment and outside. You don't want your visitors congregating in one place and waiting in line for food.
Always remember that there's nothing worse than discovering that you've run out of food and wine and essentials like toilet paper and paper plates during your apartment-warming party. Purchase paper plates, cups, and utensils from a bargain shop to keep the cost down. Keep a few extra foods and bottles of wine on hand in case of an emergency.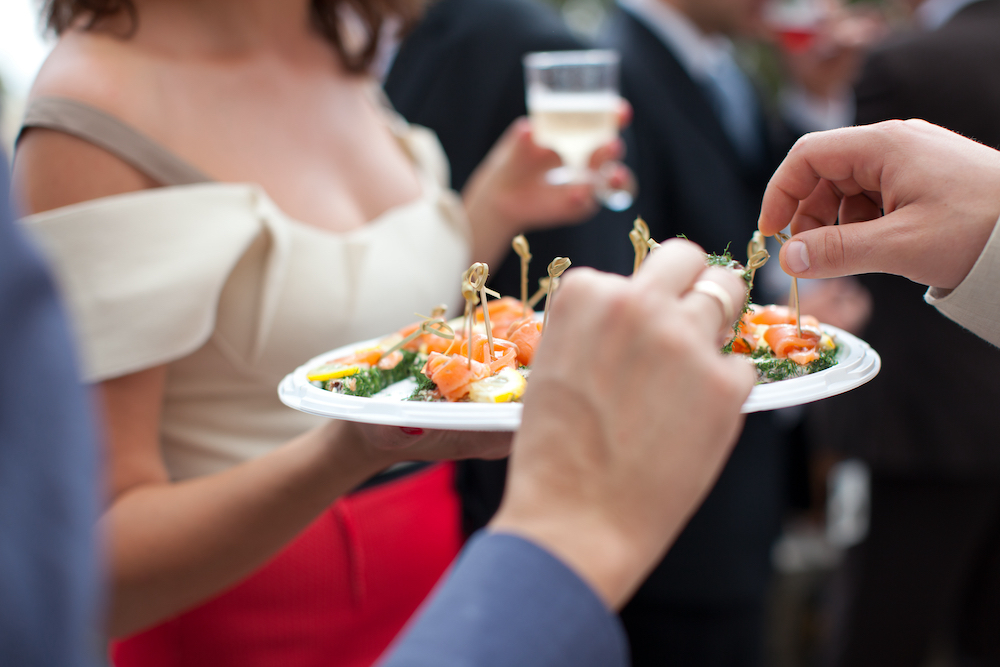 6.) Good music and proper lighting.
It might be intimidating when you don't know exactly who will show up for your housewarming celebration. So whether you're hosting a big group of co-workers or just a few buddies, make sure the atmosphere is perfect. While providing calming, ambient lighting, create a playlist of excellent energetic music. In the afternoon, you may also open all the windows. 
7.) Prepare to Entertain.
Make your apartment-warming event an opportunity to meet your neighbors. It's also a chance to catch up with past co-workers and pals. Plan a fun apartment-warming game that doesn't make guests sigh at your choice of activity. 
You can create trivia by making a list of fascinating facts in your area. Then, guests can join for a chance to win a cool prize. This will act as an icebreaker. To keep your guests interested, choose unusual and amusing facts. After the party, a neighborhood treasure hunt or pub crawl is a great way to conclude without putting everyone under pressure to participate.
The Takeaway.
If you plan beforehand, you'll be well on your way to having a successful apartment-warming party. That's why you need to set a time limit. You don't want everyone to spend the entire evening hanging around your place. Give your invitation a deadline, but make it flexible. Invite everyone to remain a bit longer if everyone is having a good time. Take advantage of the chance to wrap up your talks. If you really need an excuse, tell everyone that it's time to go to a bar or another great activity around the area.
You can have a fantastic housewarming party for your apartment with some careful preparation. Then, when the party begins, be alive and have fun. After all, the point of your party is to make new friends and reconnect with old ones.