Now that the Christmas season is here, it's time to get out of your apartments in Westwood and enjoy the shimmering lights and other holiday-themed attractions. Hundreds of public holiday attractions, from a drive-thru light show to the iconic Kansas City crowns, may be found throughout the Kansas City metro area. And of course, you'll want to see as many Christmas attractions as possible, so plan appropriately.
Here are 10 of the top Christmas attractions to see when Kansas City transforms into the City of Holiday Lights:
1.) Longview Campground
With more than 500,000 lights illuminating the night sky, Longview Campground is the ideal location for the annual Christmas in the Park celebration. Christmas in the Park, a 175-display drive-through winter wonderland, is open from Thursday through Sunday, December 31 through the end of the year. When driving, you may enjoy Christmas music.
2.) The Holiday Crowns 
These are giant crowns of gold and silver hung over downtown Kansas City crossings from 1962 through the mid-1970s. Holiday crowns based on Hallmark's insignia were among the most popular attractions in the city this season. Zona Rosa, an outdoor retail district in northeastern Kansas City, resurrected the holiday crowns in 2011. To view the crowns, which are decorated with lights of various hues, is an absolute must for residents of the apartments in Westwood. There's also a 50-foot-tall tree in the center's central plaza, as well as several other smaller, festive trees.
3.) Winterfest
During Winterfest, Santa Claus and his elves take over the Worlds of Fun amusement park, transforming it into a winter paradise. Live performances, roving elves, Christmas cookie art, and hot chocolate are all part of the festivities. Large-scale decorations and figures fill the park's exhibits, which are lit up for the holidays. In addition, a menorah is on display during Winterfest to commemorate Hanukkah. 
If you're feeling adventurous, you may go on a thrilling ride on one of the roller coasters or other attractions. The weekly tree-lighting celebration will include a special guest appearance by Santa Claus. Organizing the event is the responsibility of the Sugar Plum Fairy.
4.) Laser Holiday Magic
Laser Holiday Magic is the perfect way to ring in the new year. They have put together a playlist of some of our favorite Christmas tracks and animated them with lasers. Music and visuals create an ethereal atmosphere as you drift away from the hustle and bustle of everyday life. Everything is warm and comfy inside the dome despite the chilly weather outside!
Admission:

Members of Union Station pay $4.

General Admission is $8.
5.) Christmas with a Trombone
Trombone Christmas Kansas City will celebrate its fifth year at the Haverty Family Yards Outdoor Space at Union Station in 2021!
When trombonists gather in Kansas City for the Trombone Christmas Kansas City Concert, they want to promote a sense of community bonding and a love for the instrument via the performance of Christmas music. The event is open to everyone without any restrictions; even kids can join.
Participants pay a $10 registration fee. Residents of the apartments in Westwood are encouraged to participate in this joyous event. Meyer Music will provide the sheet music.
6.) Vaile Mansion Tours
Make the short trip to Independence to experience the Vaile Mansion as you've never seen it before. This Victorian style estate is done up and bedecked for the holiday season and is open for tours to the public. You won't want to miss your chance to view this magnificent mansion while it's all dressed up for Christmas!
7.) Take a Holiday Stroll
The holidays are spectacular at the Overland Park Arboretum, which hosts one of Kansas City's most spectacular Christmas spectacles.
During this exciting family-friendly event, go for a stroll, take a wagon ride, listen to music, and see the Christmas lights. Explore the Overland Park Arboretum's illuminated paths over the Christmas season. The pathways will be lined with kilometers of candles and lights. This year's decorations will be slightly different, with more dynamic lights and greater separation between groups! 
Each entrance will be for a set duration to control crowd flows, with extra time added so that everyone can attend!
Tickets are $15 per person and may be purchased online. Children under the age of five are admitted free of charge.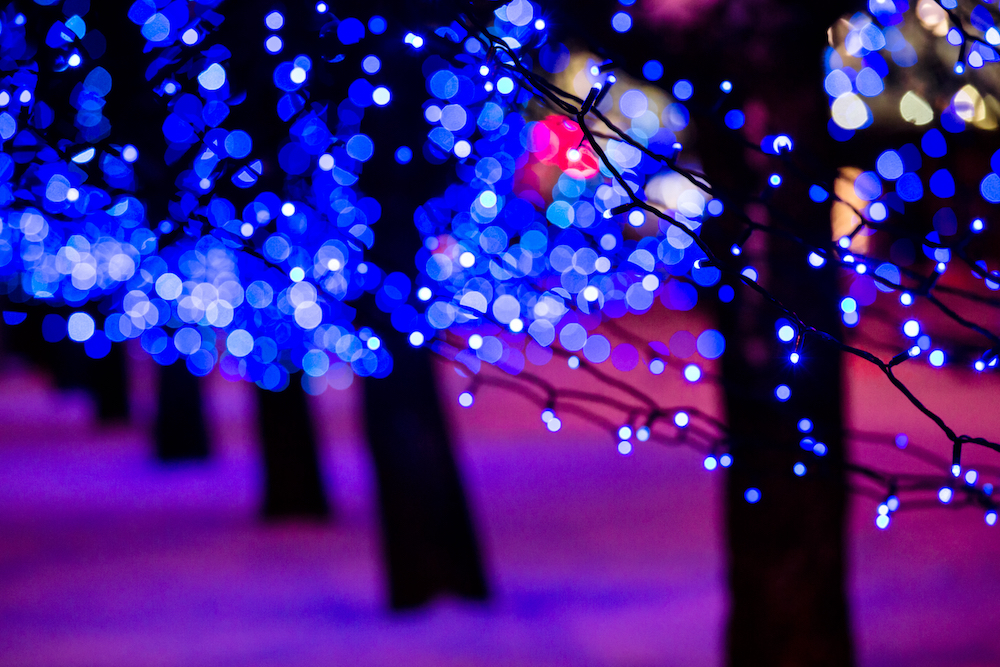 8.) Get Close and Personal with YaYa's Alpacas
Yaya's Alpaca Farm is offering free holiday tours over the holiday season. They go all out in the spirit of the season on their farm! Visit the Alpacas and have a kid-friendly educational experience while you're there. Sign up early for this free Christmas event, as they tend to fill up quickly.
Alpaca items like gloves and socks are also available for purchase in the farm store—an excellent present for the holidays.
9.) The Crown Center
With a 100-foot-tall Mayor's Christmas Tree, Crown Center is the place to be this time of year in New York City. The Mayor's Christmas Tree is bordered by smaller trees adorned with white lights, including toy trains, nutcrackers, and gift boxes. Christmas trees, a gingerbread town, and more can be seen at the Crown Center's holiday displays. An ice skating rink is also located outside of the mall.
10.) Holiday Reflections 
According to BOK Financial, Union Station's "Holiday Reflections" walk-thru holiday village grew and added to its charm in 2021. The Grand Plaza of Union Station is transformed into a magical wonderland for children, complete with a larger-than-ever Rudy's Wonderland and a vintage Jones Store Train that children may board (Mini Holiday Express Train).
This year's additions include animated walk-thru window scenarios that are ideal for Christmas selfies. Indulge in the festive atmosphere like only Kansas City's historic home can, with dazzling sights and music. In 2020, "Holiday Reflections" drew almost 70,000 visitors, and we predict a similarly rapturous reception this year. 
Your kids (under 48″) may ride the Mini Holiday Express Ride-On Train through Rudy's Wonderland for an extra $5 (FREE for Union Station Members). Please note that all visitors to the Holiday Reflections Walk-Thru Village must have a ticket to ride the Mini Ride On Train.