No matter how many square feet you have, it always seems like there should be more. For example, suppose you're renting studio apartments in Kansas City. In that case, you'll be dealing with a smaller space to begin with, so it might feel impossible for you to manage all of your possessions with such limited options for storage.
Thankfully, there are solutions out there that we'd be happy to share with you. So check out these 15 storage ideas to get the most out of every square foot.
1.) Store Under the Bed
You may want to think about utilizing the space under the bed as extra storage space. This area is excellent for things you won't need to use as much, like seasonal items. Ikea has great products on offer that serve this purpose, but many retailers offer beds with drawers.
2.) Use Your Bookshelf
There are no doubt many book lovers out there. However, as times change, you might be one of the people gravitating away from physical books and into ebooks. If so, you can turn your unused bookshelf into another avenue for storage. There are many things that you can store in a bookcase. For example, dishware!
3.) Store Under the Sofa
There may also be some space under your loveseat or sofa. This can be an excellent place to store décor, shoes, throw pillows, or winter clothing. You can put these items into nice-looking containers that are also easy to access (think caster wheels) when you need them.
4.) Cabinet Doors
These are often among the most underused areas in people's kitchens. But with some creativity and experimentation, you can make your cabinet doors extremely useful indeed.
For example, you can install some pallets on your cabinet doors using command hooks. Then you can put your plastic bag assortment there. There are countless possibilities!
5.) TV Cabinet
Your furniture should ideally serve a double duty when you live in a smaller place. And that's what a TV cabinet does. However, you aren't limited to just putting electronics in it. You can also put other items like clothing, glassware, dishes, etc.
6.) Pallet Spice Rack
These are really nice for displaying spices to motivate and inspire you to cook healthy food. After all, one of the best ways to be healthier is limiting sodium and replacing it with herbs and spices instead. You can even DIY a pallet spice rack pretty easily, so you won't have to worry about your security deposit. It's also quite useful to get your spices out of the cabinets to save more space since jars can be pretty clunky to store.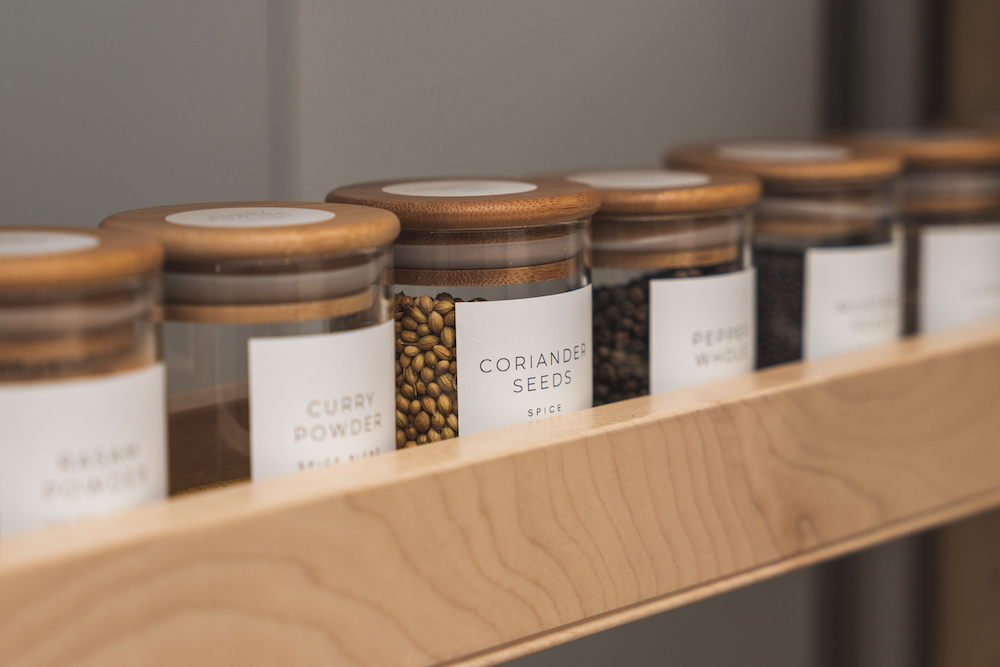 7.) Freestanding Wardrobe Closet
Consider investing in a freestanding wardrobe closet if your closet has been maxed out. Some can even double as a lengthy mirror and are quite sturdy indeed. In addition, some are sold for $100 or less, making it a great value.
8.) Baskets for Your Upper Cabinets
Baskets for upper cabinets are a great idea because you'll be able to put more things in that space and retrieve them easier. Just pull the basket down and look through it to find what you want. When you've retrieved it, just put the basket back. Easy.
9.) Double Duty Desk
This is another excellent idea for small studio apartments in Kansas City. A double-duty desk fulfills two needs: desk space + shelf for plants, books, or other bits and pieces.
10.) Put Things on Your Countertop
Often, studio apartments in Kansas City contain smaller kitchen cabinets. Don't worry if your kitchen is like that because you should have more kitchen countertop space to compensate.
So, you'll want to use that space as wisely as possible. It's a good idea to put your most frequently used items on it, so they will be easily available 24/7.
11.) Bathroom Organizer
Organizers are great for adding additional storage to your bedroom, bathroom, or kitchen. For example, closing it can give you a full-body mirror for the bathroom. Simply fold it open, and you'll have a complete bathroom organizer that can hold all of your favorite bathroom items. You could also use this same item for the bedroom since mirrors are useful there too. Just put some clothing or small items inside it.
12.) Properly Using Kitchen Drawers
More of an organizational tip than a space-saving one, but incredibly useful nonetheless. Use labeled baskets in your kitchen drawers. The little bit of extra space required is a small price to pay for the advantages of having organized kitchen drawers, which you'll probably agree with after trying it.
13.) Store on Top of Refrigerator
This is an area that goes unused for many people. Many newer studio apartments in Kansas City already have cabinets above the refrigerator. Still, you might be staying in an older place with a standalone refrigerator. If that's the case, you can think about creating a storage structure for your refrigerator to go inside that can include a built-in storage space above the fridge.
14.) Consider a Mobile Kitchen Toolbox
If you love mobility in the kitchen, you can get a compact and movable cart. It should have multiple shelves to provide plenty of extra space. You might think that it would be a hassle to bend over all the time to get stuff. You'd be right, but that's why you should put rarely used items on the bottom part of the cart and the commonly used stuff on top. The best part is that it's mobile on wheels, so you can take it away or put it front and center as needed! There are plenty of creative options with these.
15.) Storage Units
If you've exhausted every other storage idea and still need more storage space, think about renting a storage unit. Plenty of storage unit businesses offer storage units ranging from 5 x 5 feet to 10 x 30 feet. The majority accept monthly payments, so you can rent this storage for as short or as long as you need. Storage units' security, climate control, and price are a few aspects to think about.