Winter is just around the corner, and if you're lucky enough to call Kansas City home, you're in for a treat. The city comes alive with enchanting winter activities that will make you fall in love with the season all over again. As the best apartments in Kansas City, we're here to share our top picks for winter fun in this vibrant city. Keep reading to get all the details on fun activities to try – from ice skating to shopping to wine tasting, this list is sure to have something for everyone. Keep reading to get all the details!
#1.) Ice Skating at Crown Center
What better way to celebrate the season than with ice skating? Kick off your winter festivities with a memorable visit to the iconic Crown Center Ice Terrace. Located just a short drive from Woodside Village, this ice rink is a Kansas City staple that offers the perfect setting for a fun-filled day of ice skating with family and friends. It's a delightful way to embrace the chilly season. 
#2.) Visit the Kansas City Zoo
While you may think of the zoo as a spring or summertime activity, it's time to think again! The Kansas City Zoo transforms into a magical wonderland during the holiday season with its "GloWild" event. Take a leisurely stroll through the beautifully lit zoo grounds, marvel at the dazzling displays, and enjoy the festive atmosphere. This once a year display is something truly festive and an excellent way to get into the holiday spirit./
#3.) Attend a Kansas City Chiefs Game
Don't let Taylor have all the fun! Being in Kansas City, you can't miss the opportunity to attend a Kansas City Chiefs game. The electric atmosphere at Arrowhead Stadium, the cheering fans, and the thrilling gameplay make for an unforgettable winter experience. Just be sure to bundle up and layer your best red and gold gear, as the winter winds can pick up without a moment's notice. 
#4.) Union Station Holiday Model Trains
For a dose of nostalgia, head over to Union Station to witness the Holiday Model Trains exhibit. This intricate display features miniature trains running through a winter wonderland, complete with snowy landscapes and charming villages. This is a great choice for people of all ages, including children and older adults. In addition to this, Union Station is always beautifully decorated, perfectly boasting the sights and sounds of the holiday season.
#5.) Country Club Plaza Lights
There are few things as iconic to this time of year as looking at the light displays around the city. The good news is that Country Club Plaza is perhaps the best place in Kansas City to take it all in! Enjoy a leisurely evening stroll through the Plaza, savor the festive ambiance, and admire the thousands of twinkling lights adorning the buildings.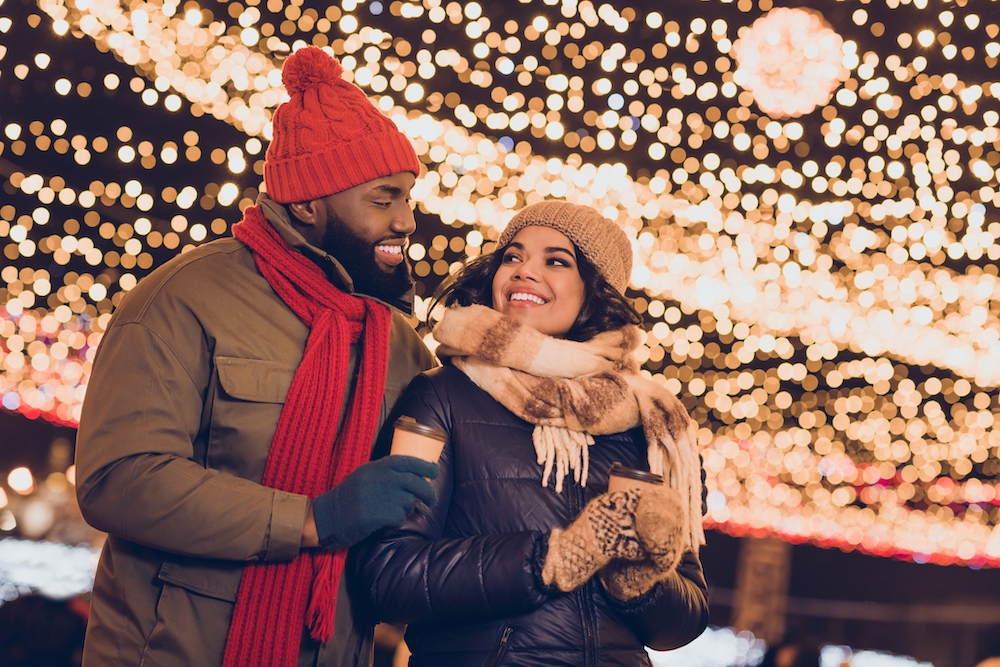 #6.) Wine and Beer Tastings
If you are looking to head indoors and enjoy a few festivities, why not warm up with a wine or beer tasting? Kansas City is home to many amazing local businesses including breweries and wineries that host different events all throughout the holiday season. Host a holiday party or simply hit the town with friends. Either way, you're sure to have a good time!
#7.) Visit the Nelson-Atkins Museum of Art
It is no secret that the Nelson-Atkins Museum of Art is truly a staple to the city. While here, you can spend the afternoon getting immersed in this rich cultural experience. The museum's exquisite collections and inspiring exhibitions are perfect for a day outing, whether you have children or would like to visit as a date spot. 
#8.) Crossroads Arts District
If you are looking for a one of a kind gift for that certain someone on your list, we know just the perfect spot that could help. Throw on a warm coat and head out to discover the vibrant art scene in Kansas City's Crossroads Arts District. Galleries, studios, and shops come alive during the winter months, offering a unique and creative experience for art enthusiasts.
#9.) Holiday Shopping at Legends Outlets
Should your shopping list call for gifts that require a bargain, Legends Outlets is the place to be. Find the perfect presents and enjoy the festive decor at this shopping haven, conveniently located just a short drive from Woodside Village. Legends is also home to Dave and Busters as well as many delicious restaurants, meaning that it's the ideal place to spend the whole day!
#10.) Cozy Nights at Woodside Village
After a day of exploring all that Kansas City has to offer, return to the comfort of your luxury apartment at Woodside Village. Our 91-unit luxury apartment community is the ideal urban retreat, with modern, sustainable design, luxury finishes, oversized balconies and closets, and concierge services. Our apartments are truly an oasis where you can relax and enjoy the comfort of your home. 
Should you need to recharge your batteries after all these winter festivities, don't forget that as a Woodside Village resident, you have access to the best Kansas City area wellness center. While at Woodside, you can visit the spa, burn off calories taking a group fitness class, or simply sweat your cares away in the sauna. The opportunities to focus on self care are nearly limitless!
Book a Tour Today!
Kansas City is a magical place that comes alive during the winter months. No matter what you are interested in or how you like to celebrate the season, this thriving urban metropolis is sure to have something you enjoy. To experience the best KC has to offer this winter as well as the convenience of living in the best apartments in Kansas City, we invite you to book a tour of Woodside Village. Discover a pedestrian-friendly town center where you're just steps away from local shops, a health club, entertainment, and eateries. 
Contact us today to schedule your tour and make Woodside Village your new home in Kansas City!