With the popularity of living a minimalist lifestyle growing day by day, you may be looking into achieving that kind of minimalism for yourself in your own apartment. The issue with that is that going from a more maximalist lifestyle to a minimalist one can be a bit of a challenge unless you have a set plan for what you want to do. 
With our stainless steel appliances, large windows for maximum natural light, and modern, up to date floor plans, our apartments for rent in Westwood make it easy to enjoy a minimalist, yet fashionable, lifestyle. 
If you're looking for some decor ideas to get you started, then look no further! Here are ten you're going to want to try as soon as you get home:
1.) Go with neutral colors.
Going with a more neutral color scheme is sure to give your space the minimalist vibe you're looking for. Choosing neutral colors for things like bedding, a majority of your decorations, storage, etc. can help you bring attention to the things that you choose to make the focal point of the room with color. 
Bright neutral colors also tend to make your room feel larger, as it allows more of that natural light to brighten up the space. 
2.) Utilize natural light as much as possible. 
Speaking of natural light, using the natural light in your apartment to the fullest is going to make the space feel lighter, airier, and help the landscape outside of your window to be one of the focal points in your apartment. Our apartments for rent in Westwood, in fact, are located in a beautiful area and make for a great view, no matter what apartment you're in!
Plus, having that natural light in your apartment just makes the space feel larger and more inviting. A darker space is always going to feel more cramped, and if your space is dark and filled with a lot of clutter, it can seem downright tiny! Combined with other minimalism factors, natural light can be just what your apartment needs to push it over the edge. 
3.) Purchase sleek, neutral furniture. 
Being minimalist means that you've got to show off some more of the basics in your home. It's not how much you have, but how you show off what you've got. 
Sleek, neutral-colored furniture with clean lines will give your bedroom just the edge that it needs without veering too far out of the minimalist vibe you're going for. Getting a nice, clean headboard and some sleek side tables to match are all you really need to decorate your bedroom, and the rest of your home is the same. 
For the kitchen, try getting appliances that match the features of your apartment that are already there. For example, our apartments for rent in Westwood are stainless steel, so it might be a good idea to also get stainless steel or chrome/plated appliances to continue the sleek, modern vibe throughout the whole kitchen.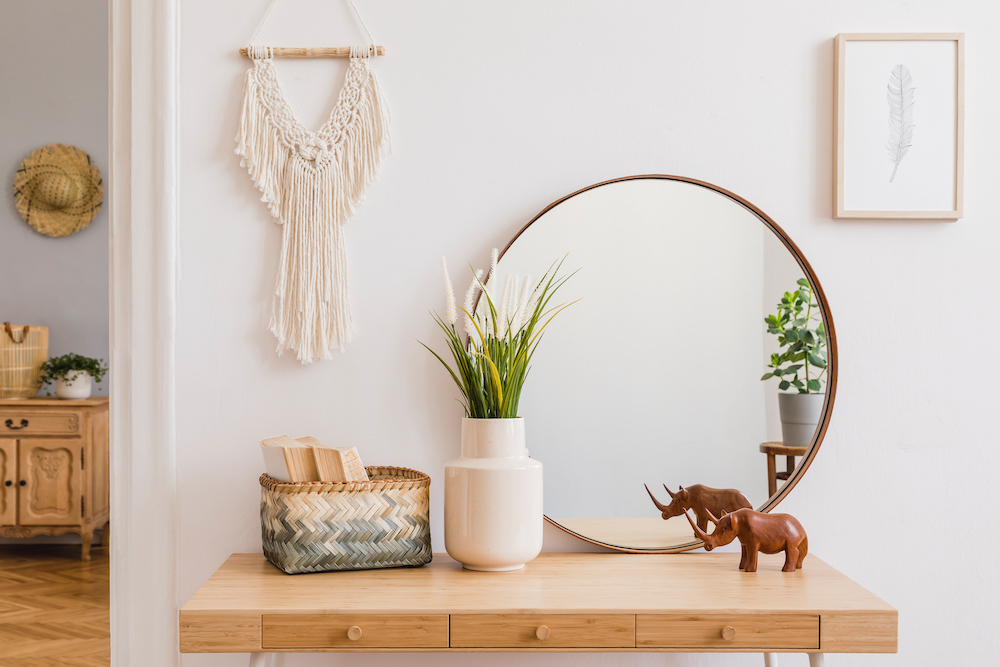 4.) If you want to add color, try using accent touches or painting an accent wall. 
You don't need to pack your apartment full of color for it to make an impact!
In a sea of neutral and beige tones, an accent wall or throw pillow (or even a brightly colored kitchen appliance!) can make a massive difference. It can be exactly what you're looking for to give your home a little bit of character without overwashing it in color. 
If you're able to paint in your apartment, consider doing some kind of accent wall to offset the neutral tones. Not only will it make your apartment stand out, but it will make your minimal chosen decorations really pop. If your apartment isn't one that will allow you to paint, consider using removable wallpaper for the same kind of accent wall effect!
The same can be said for things like a funky colored pillow or kitchen appliance. In a neutral-colored environment, every spot of color is going to make whatever it's around stand out. If you have a really cool couch, an accent pillow is going to bring the focal point of the room to the couch right away. It's a great way to make the most out of what you've got!
5.) Live your plant parent fantasy.
Living a minimalist lifestyle doesn't mean that you have to give up everything that might potentially make your apartment seem cluttered. A prime example of this is plants. Having plants in your minimalist apartment is perfect, and still allows you to live your plant parent dreams.
Instead of using other accents or a lot of decorations that don't add a lot to your space, decorate your home with plants instead. Not only will it make the air in your home feel cleaner and brighter, being surrounded by the greenery of plants is sure to be a big mood booster! Plus, the minimalism trend may fade, but plants are definitely something that's here to stay. You'd be hard-pressed to find someone who wasn't just as enthused about your bright green "children" as you.
Living the Minimalist Lifestyle at Woodside
Here at Woodside, our apartments for rent in Westwood make it easier than ever to decorate in whatever style you'd like your apartment to be: minimalist or otherwise. The possibilities are only limited to your imagination and personal style!
Our modern apartments feature wide windows with lots of natural light, allowing for the perfect amount of sun to complement any designs you decide to go with. Our sleek, stainless steel appliances can lend themselves to maximalist or minimalist designs, depending on what you'd like.
However, no matter what, we have exactly what you need to make Woodside your home. If you're a maximalist or a minimalist, we hope you find what makes you most happy here in our apartments for rent in Westwood.
If you're looking to make Woodside your next home, contact us to schedule a tour today!