The best way to make Kansas City luxury apartments more cozy is to utilize the space better. And during the winter months, this is especially important. Therefore, now is the time to get prepared.
Also, keep in mind that homeownership is not required to make your space feel homely. There are, of course, some limits to how far you can take things. However, with our tips, you can make a cozy place for yourself that has the luxurious feeling you desire. Here are the design principles that you will see in the best-looking luxury apartments in KC.
1. Unpack The Bedroom First
This is your new home, so why not start treating it that way? Begin unpacking as soon as you can, right after you properly clean your new place. That way, you'll already feel a sense of ownership over your new home (even if it already looked clean, to begin with).
You can also just unpack a single room at a time if you feel like it's too much and you aren't sure what will go where. Beginning with the bedroom is an excellent idea if you aren't sure if you can unpack everything in a single day. Also, you will at least have one place to relax after a hard day's work of making your new apartment livable.
2. Plan and Decorate With the Intended Design in Mind 
Just because you're renting doesn't mean that you have to deprive yourself. You should fill your new apartment with plenty of things that are not only aesthetically pleasing but are useful as well. For instance, if you like how the modern style of décor looks, then take that into account when considering what new pieces to buy for your apartment.
You also don't need to overspend on furniture items, especially if you favor the classical look (or even a bohemian style). There are plenty of thrift shops and boutiques in Kansas City that sell second-hand furnishings. These can look surprisingly good and add more character to your apartment.
Conventional big box stores also sell affordable items that can help provide the finishing touches. For example, you might need some rugs that can tie the overall look of the room together. In that case, these stores should have what you're looking for.
3. Brighten up the Space 
Appropriate lighting can do wonders for warming up the space. Lamps in the right places, such as near the bed or in the living room, can be better than brighter, more intense lights.
Also, consider decorative lighting. Plenty of lamps don't just light up the space but function as decorative pieces unto themselves. There are also different kinds of bulbs – dimmers and energy-efficient bulbs are simple to replace and install. These will give you even more options for energy-efficient lighting.
And finally, you also need to think about how to handle the light in your space. Consider windowed solutions that can reduce the amount of harsh light pouring into the space during the morning hours. Of course, whatever solution you choose should look good while doing its job of reducing the intense sunlight.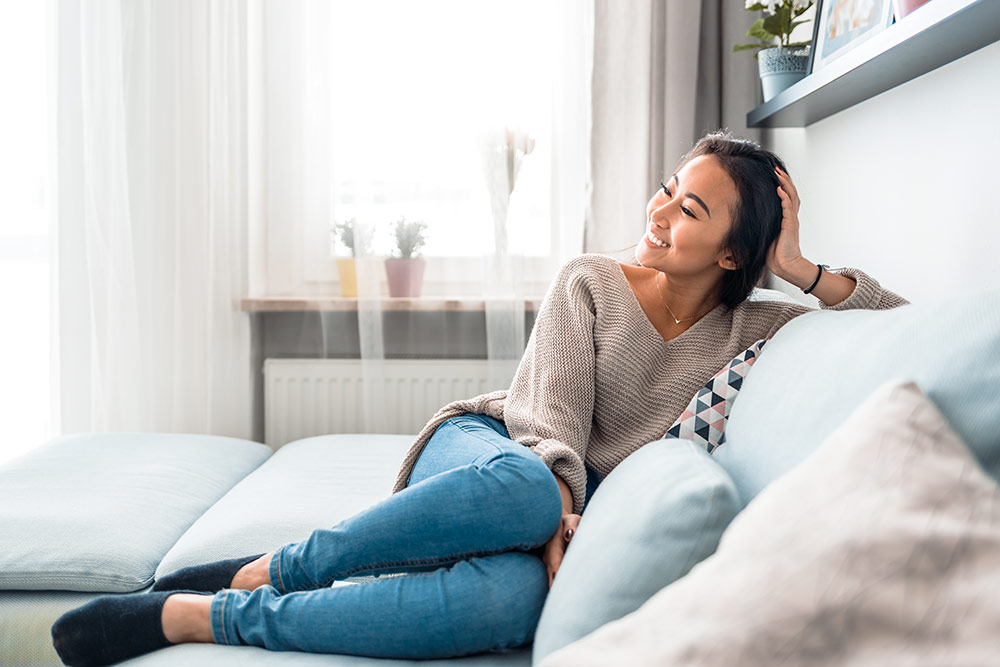 4. When It Comes to Coziness, Less Is More
This is especially true if you're living in a smaller place. Be very considerate of what you're adding to your apartment. After all, you want it to feel just like home. Items that offer storage opportunities are also excellent choices in smaller spaces.
You can keep your bedroom more organized with the help of closet organizers. Bathroom stuff can be kept out of sight in decorative bins/portable cabinets if you're lacking in space to store them.
If you'll be having guests, consider furniture that can also function as hiding places for the stuff you want to keep private.
5. Uniqueness Is Classy
You don't need top-of-the-line art décor to create that high-class feel you desire. The less expensive and arguably more satisfying option is to put your own personal touches instead. These could be items that you've collected over the years that are meaningful to you. Common examples include family heirlooms, framed pictures of loved ones, or even your own artistic creations.
If the space still seems to lack warmth, get some throw pillows, cozy blankets, flowers, plants, and some extra color to remove that "blank canvas" feel of the room. Of course, be sure to check the lease first before tossing paint onto the walls since this isn't an option for every apartment. If paint isn't allowed, removable wallpapers or hanging art hung with removable hooks can be used instead. These should not leave behind any damages.
6. Aromas: The Easiest Solution
A tried and true way of creating a cozy feeling is to have the right scents and smells. The appropriate scent can create a sense of calmness and warmth for any occasion, whether it's for a night of relaxation or a lively night with friends. Compared to the other tips on this list, this is the easiest and simplest one to implement.
Just remember to keep the smells and scents uniform throughout the apartment, as too many different smells can create a sensory overload. This would create the opposite of the calm and cozy feeling that you want.
7. Get Acquainted With the Neighborhood 
Besides getting to know your new luxury apartment amenities, you'll also want to check out the new neighborhood. This is true even if you're moving to a new place in the same city.
Find a nice coffee shop within walking distance

Find the best local options for groceries and other essentials

See if your favorite pizza place is nearby. You might find a new favorite one!

Take a stroll around the neighborhood to get to know the area better.
Getting used to the area will make you feel more like a member of the community, which will help inspire you with new ways to make your Kansas City luxury apartment feel homely.