Keeping your apartment clean and tidy can be a difficult job for anyone, whether you work from home or not. It's hard keeping up with all of the dishes, laundry, vacuuming, and more – especially when you're just having a lazy day and don't want to work. We've all been there!
Most of us are also looking for ways to keep our apartments clean and tidy, but doing it in a way that makes our lives easier and keeps cleaning easier to manage. Even the nicer apartments for rent in Kansas City require a little touching up now and then!
If you're looking for a few pointers to help you make the most out of your cleaning time, then look no further. There are the best housekeeping hacks to help keep your apartment looking and feeling fresh and clean:
1.) Use vinegar and lemon juice to clean your shower head and microwave. 
Vinegar is a very powerful but underutilized cleaning product. Its acidic nature is perfect for breaking down stuck in buildup and cleaning your surfaces to a sparkling shine. Adding lemon juice or even lemon oil doesn't detract from the cleaning power, and adds a bright citrus scent to whatever you're cleaning. 
Shower heads can be tricky to clean, especially when they're covered with buildup. An easy solution is to fill a bag with white vinegar and lemon juice, and tie the bag tightly around your shower head. Let it sit for about half an hour, then remove the bag and wipe down to clean off the remainder of the residue. It should look good as new! 
Microwaves can also be covered in stuck-on food buildup that's hard to remove. The solution? Microwave a bowl of white vinegar and lemon juice for about five minutes, and let it sit to steam. After about half an hour, open your microwave to wipe down the food residue. It cleans up the stuck-on residue quickly and easily!
2.) Clean your mirrors with a magic eraser. 
It's hard to get your mirrors to that perfect streak free shine every time, even when you use a specific glass cleaner that's supposed to be "streak free." What you might not have known is that it's possible to get that glorious streak-free shine with a Magic Eraser! Simply use your magic eraser as directed on the package on your mirrors and other reflective surfaces and you'll be left with an easy, streak-free shine with no extra mess. 
3.) Alka Seltzer is great to clean your toilets with. 
Cleaning the toilets is a chore that no one really enjoys doing, but one that needs to be done anyway. Not even the best apartments for rent in Kansas City come with a self-cleaning toilet! However, Alka Seltzer can make cleaning your toilets easier than you thought possible. Simply drop a couple off the Alka Seltzer tablets into your toilet and let them bubble up. Scrub the toilet bowl down with your toilet wand, and it looks brand new!
4.) Dryer sheets are perfect to clean your baseboards. 
Cleaning baseboards is such a hassle, especially because the dust buildup likes to stick to everything: your floors, your hands, your cleaning wand, even you. Dryer sheets can help you eliminate that hassle and frustration! You don't even have to do anything special – just grab a dryer sheet and run that along your baseboards to clear up any dust. The dryer sheets keep hold of that pesky dust because of static electricity, keeping it contained to the dryer sheet that you can just toss out instead of trying to clean. Plus, dryer sheets smell great, giving your room a bit of freshness!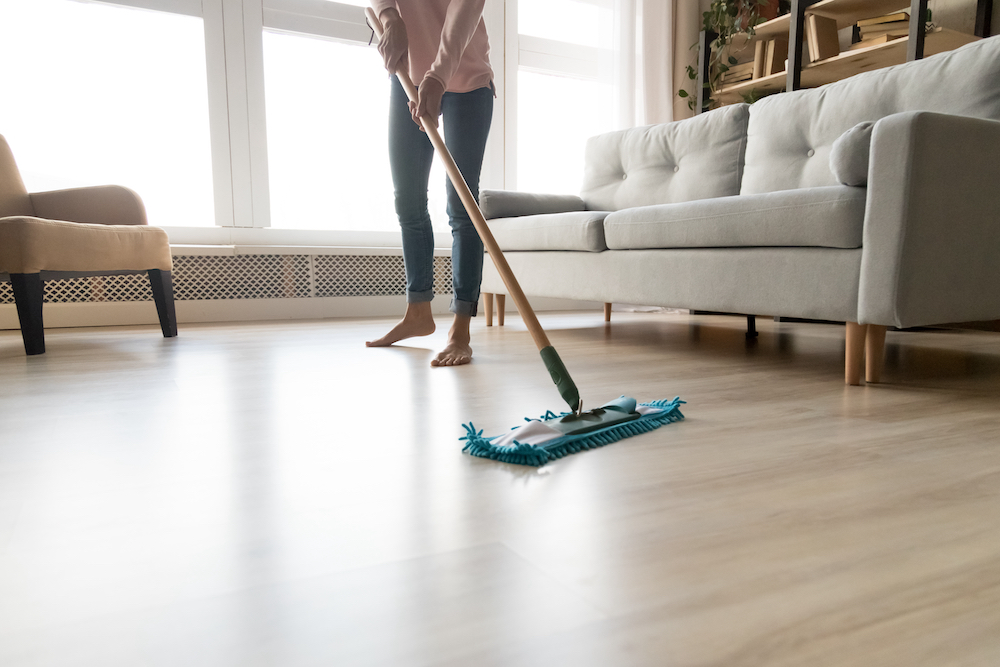 5.) Use a pillowcase to dust your fan blades. 
Fan blades can get so dusty so quickly, especially in the summer when they're running all the time. The worst part? They can be such a pain to clean, especially if you're using a typical duster and cleaning product. 
You're in luck though: there's an easier way. Grab a step stool to reach the fan blades if you need it, grab a pillowcase. Wrap the pillowcase around the fan blade and pull it until the blade ends. You'll be left with a clean fan blade and no dust – not on yourself, not on the floor, and not on a duster! It's easy to clean, too. Simply knock the dust out of the pillowcase outside and throw it in with the rest of your laundry. 
6.) Clean your floors last!
When you're cleaning, the best hack to know is to always clean from the top down and do your floors last! It can be tempting to start with some of the bigger tasks like vacuuming or mopping, but saving your floors for last can actually be a massive time saver in the long run. When you dust, clean your counters, wipe down your windows, and more, all of those little particles get knocked down onto your carpet and hardwood floors. If you clean your floors first, by the end of cleaning, they'll all just be dirty again!
By cleaning your floors last, you save yourself more of a cleaning hassle, keeping your vacuuming and mopping to only once instead of twice. 
Woodside Village
We are proud to be host to some of the best apartments for rent in Kansas City here at Woodside Village. With on-site recycling and daily valet trash pickup, we make it easy to get your apartment clean and get the trash out right away. Or, if you really don't think that you can clean (because it gets overwhelming sometimes!) and you've got guests coming over, simply opt for your guests to stay in one of our guest suites. They're easy, convenient, and you can have friends over without having to deal with picking up everything.
If you're interested in making Woodside Village your home, we'd love to have you! Contact us and schedule a tour today!