Living through the COVID-19 era has made us more aware than ever of how important it is to be comfortable in your home. For people with small apartments, the challenges of lockdown, working from home, working out, having pets, etc., became more evident than ever. 
If working from home has become your new normal, you've probably been thinking about changing your living arrangements around to accommodate for your new lifestyle. Of course, there are some people that simply can't afford to move into a bigger place – which is fine, because balling on a budget is great! – but those who can are probably looking into getting themselves some more space. 
Woodside has some of the best apartments in KC if you're looking to give your home life a little bit of a revamp. And, if you've been considering moving from a smaller apartment into a two-bedroom apartment, here are some reasons that might persuade you why it's a good idea:
1.) You could get a roommate!
The pandemic has taught us, probably more than anything else, to value our relationships. When we first went into lockdown, we had no idea how long that this would truly last and how much it would affect our day-to-day lives. Those who are living alone might not've seen another person for days!
As a result, something positive about having a second bedroom is the possibility of having a roommate. Not only would having a roommate lessen the rent and utility costs for you personally as they'd be shared, but you have a live-in friend to converse with. This could be especially beneficial to those  people who still work from home and don't get to have as much outside interaction. 
Plus, getting a roommate when you move into a two-bedroom place allows for more freedom to choose a nicer area and nicer apartment. Because you'll be sharing the cost of the rent and utilities, it allows for the possibility of finding a much nicer apartment for the same price as you were paying to live on your own. Couple that with some nice amenities like the best apartments in KC at Woodside have, and you're set!
2.) Office space in your home is becoming more and more important.
If you're working from home, it might've been a very quick transition. During the pandemic, people had to quickly figure out and adapt to how they were going to operate working in their apartments when many people had never done that before. Plus, there were many people that didn't deem it necessary to create full office spaces, assuming that they would be back to the office quickly.
Unfortunately, in most cases, this didn't happen, and working remotely is more common than not. As a result, you might be looking to give yourself a true office space, and a second bedroom is perfect for that! But the office space doesn't have to be for just remote work; it can be for a craft setup, for a small business, a gaming area, and much more. Office space allows you to do whatever it is that you need to do in the comfort of your own home, and giving yourself a designated place to do it. And what better place than a second bedroom? 
3.) Extra storage and closet space!
If there's one thing that all of us need, it's always more storage space. you've got nowhere to put your Christmas or other holiday decorations, or maybe you're a collector that needs somewhere to display your figures, or maybe you're a big crafter with a huge haul of craft supplies! Whatever the reason, extra storage space is always a godsend, and having a second bedroom keeps that storage out of your own bedroom and closet.
Speaking of closets… you might be thinking that your closet just isn't quite big enough to suit your needs. Maybe you like to review clothing, or you just love fashion and have a lot of clothing that doesn't all fit in your closet! You could always outfit a second bedroom to have the "massive walk-in closet" vibe, and use it as your own personal getting ready room. Add a vanity for you to be able to do your makeup, and you're all set!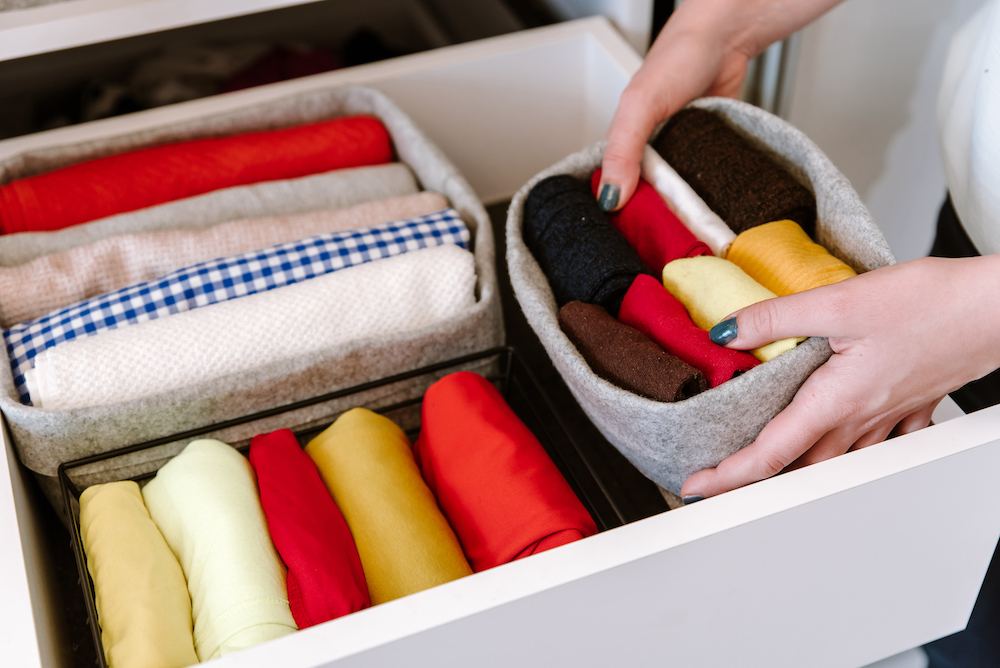 4.) A guest bedroom… or, if you're feeling really extra, a pet bedroom!
This one, of course, is a no-brainer, but having a second bedroom means that you can turn it into a guest bedroom! If you're the kind of person that loves to have friends over and loves to entertain, then having a guest bedroom might be the way to go for you. You might even just be able to make that room your office, like the tip before, and keep a nice air mattress or pull-out couch to use for guests who come to visit. It gives you the option to do what you need, and to change the room around if you need to.
And hey, if you're a pet owner and feeling particularly parental to your four-legged baby one day, you could even make your extra bedroom into a bedroom for your pet! They'd love it, and they'd be able to have their own little space.
Just remember: at Woodside, we have guest suite rentals, so if you're not too keen on giving up your office space or your cat's jungle gym room in order to host a friend, then you don't need to! Simply contact our front office with your preferred dates, and you'll be able to rent a guest suite if it's available. 
Woodside Village
At Woodside Village, we want you to be happy in your home, whether it be in a studio, a one bedroom, or a two bedroom. With all of the amenities we offer like onsite restaurants, access to the fitness center, and spa services, you're guaranteed to love your space, no matter how big that space actually is. 
Whether you're alone in your apartment or sharing it with a roommate (human or four-legged and furry), we hope you feel at home here.
If you're interested in living at Woodside and would like a tour, contact us to schedule one today!