One of the most exciting and fun things to do in your new apartment is to hold some kind of a dinner party for your friends. However, in a small apartment, sometimes it can be a challenge fighting out how to navigate the best way to host a dinner party that everyone will remember – and not for the wrong reasons. You can't bust out all of your awesome Food Network recipes if not everyone can fit inside!
Woodside Village may have some of the best apartments in Kansas City for hosting dinner parties, but location isn't always everything (even though it can be most of it). It's always a good idea to have a couple of other tips and tricks up your sleeves to keep everyone entertained and happy, and to help keep you from pulling your hair out.
If you aren't sure where to get started, here are a couple tips that might help:
1.) Cut down on the guest list.
Small apartments are never going to be the best choice of a hosting location for large dinner parties. Having more than a few extra people in your apartment can make the space feel cramped and uncomfortable, and that's not a feeling that you want your guests to leave with. 
When you're creating your guest list, don't try to invite everyone and their brother's uncle to your apartment. Invite only your closest friends or, if you're doing this for some kind of business reason, only the coworkers that you are particularly close to. There's no need to invite people that you don't necessarily like to spend an evening in close quarters together.
If you still desire to invite those who didn't make the cut, maybe choose going out to get a couple drinks or a nice dinner instead of inviting them to the more intimate setting of your apartment. That way, you can reserve having the closer quarters for those that you consider closer to you, and leave all of the other interaction out in public. Woodside Village is one of the best apartments in Kansas City for that. Simply choose one of the awesome places within walking distance of your apartment, and it'll be a convenient way to have a dinner party…without actually having one.
2.) Have a signature cocktail – and let your guests make it.
It can be extremely difficult to cater to all of your friends' alcohol preferences. It can quickly get overwhelming – and expensive – to purchase a wide variety of alcohol to make several different drinks. Plus, there's the idea of space. If you get enough supplies to make three or four different cocktails, where are you going to put it?
Creating a "signature cocktail" for the night is an easy workaround with that. Choose a cocktail that you believe might suit the tastes of several of your guests – and yourself. That way, you don't have to run yourself ragged trying to find a location to house all of these varied, large bottles, and you can focus on making your signature cocktail the best that it can be.
A twist on this idea is actually to have your guests prepare the cocktail. Leave everything that they'd need to create the cocktail in a central location, away from where you might need to be to finish setting everything up, along with the name of the cocktail and a recipe card (or cards). Having your guests make the cocktail allows you a little extra time to finish getting everything ready, and it also gives you the opportunity to give your guests a little bit of a take-home souvenir if you make multiple copies of the card.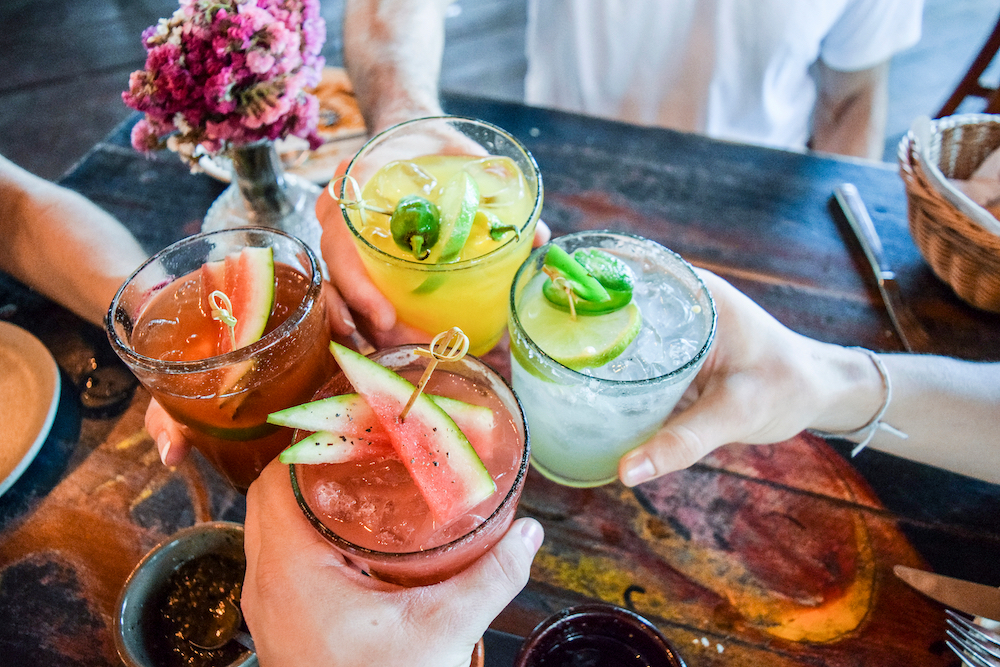 3.) Serve something easy.
There is absolutely no need to overcomplicate a dinner party. Don't stress yourself out about making an elaborate roast, or souffle, or anything like that. Something small, light, and easy will always be best – for both you and your guests. 
If you're short on space, create several different "grazing" tables around your dining or living room area. Or, if you don't have the space to do something like that, turn your entire counter or table into a giant charcuterie board. Lay down some butcher paper and decorate to your heart's content. This also makes it easier for you to replenish if the food gets low, and it's extremely portable for guests to take home if there are extras. 
And even if cooking or decorating isn't exactly your forte, then there's still the option of catering. Try a buffet-style setup from a local place that everyone enjoys, or that you think everyone would enjoy. That way, you won't have to do any cooking at all, and that's a definite win!
4.) Utilize all of your space. 
You've got all kinds of space in your apartment – so use it! Shift your furniture around a little bit to create separate dining areas so that not everyone is lumped together and on top of each other. Add a cooler to the balcony so that additional drinks can be kept outside and out of the way. Move decorations from dressers or cabinets and use those as additional food, beverage, or cutlery access. You could even shift around your larger furniture, like your couch, to use your coffee table or side tables as additional seating. The possibilities really are endless if you get a little creative about it!
Throwing Your Best Party at Woodside
With balcony access, awesome location, and great amenities, Woodside has some of the best apartments in Kansas City for hosting dinner parties. We want you to enjoy your stay here, so we endeavor to make things as comfortable as possible for both our residents and their guests.
If they have a little too much fun at your party, then they can use one of our guest suites to spend the night if you simply don't have enough room in your apartment for everyone. Or, for a little bit of fresh air and extra space, the balconies add a nice extra touch to your dinner party plans.
If you're interested in becoming a resident here at Woodside and hosting a dinner party of your own, contact us today!