The jump from moving out from under your parents' roof or the protection of your college dorm can be a daunting task. Even after picking out one of the apartments for rent in Kansas City, there seems to be a never-ending list of things that you need to purchase, thrift, or borrow in order to get your space feeling less like a box and more like a home.
Dream big on your design, but don't forget that you've got to have the basics before you can get there. It's not going to be any fun trying to binge watch Euphoria only to find that your couch hasn't gotten delivered yet, there's no popcorn in your cabinet, and you have to use your phone to stream because your internet isn't hooked up yet. 
Feeling a little overwhelmed? That's okay; we're here to help. Here's a couple of tips to get one of the apartments for rent in Kansas City feeling more like home:
What To Do Before You Leave
There are plenty of things that we don't often think about that should be at the top of your to-do list to make your move-in process as smooth as possible. Depending on what kind of apartment you move into, you might be responsible for all of your own utilities. Make sure before you go that all of your basic utilities, like water, electricity, and gas, are hooked up and functioning, and check with your landlord or apartment complex how to put those into your name.
Most apartments for rent in Kansas City will have the basics covered, but things like internet and cable (should you choose to use it) aren't included under the "basic utilities" umbrella. More likely than not, you'll have to go on the hunt for your own provider for these utilities. Check to see what companies provide service in your area, and go from there. Some may even offer you a special discount or deal for being a first time customer. If you have all of this taken care of when you arrive, you can dive right in to taking breaks by catching up on your favorite Netflix show in the bath. 
The Open-First Box: Your Ticket to a Smooth Move-In
Something that you might not think about is having an "open first" box or set of boxes when you finally make that move. Having a designated box or boxes that are your absolute must-opens can make the move-in process so much less daunting.
Think about what you use on a daily basis that you would need right away, regardless of when all of your items make it to your new apartment. For your kitchen, you're definitely going to need things like water bottles, paper cups/plates/silverware, snacks, and paper towels. This saves you a trip to the grocery store when you need a snack, and has some basic cleaning items within easy reach. And you'll be doing a lot of physical activity when you move, so water is a must.
But what if you don't finish all of your unpacking on that first day, and you have to stop to sleep for the night in the middle of it? Your open first box can have that covered for you, too! Keep your shampoo and conditioner, towels, shower curtain and liner, bath mat, and toothbrush and toothpaste in your box to make for an easy showering experience in the middle of your move. No one wants to crawl into bed all stinky and sweaty.
Speaking of the bedroom, make sure that your box has pajamas, an outfit for the next day, pillows, blankets, sheets: anything that you might need to set up your bed. There is no worse feeling than being so exhausted that you can barely keep your eyes open and realizing that you still have to dig through dozens of boxes to find what you need to make your bed. 
And finally: don't forget your chargers! You're going to regret not putting your phone charger in an easy access spot before putting everything away. After all, we're so dependent on our phones. How will you be able to get up with the movers, or your friends, to help if your phone is dead?
Make sure to pack that "open first" box in something eye-catching, like a big plastic tub or a box covered in brightly colored duct tape so that it stands out, and your move-in process will be smooth sailing.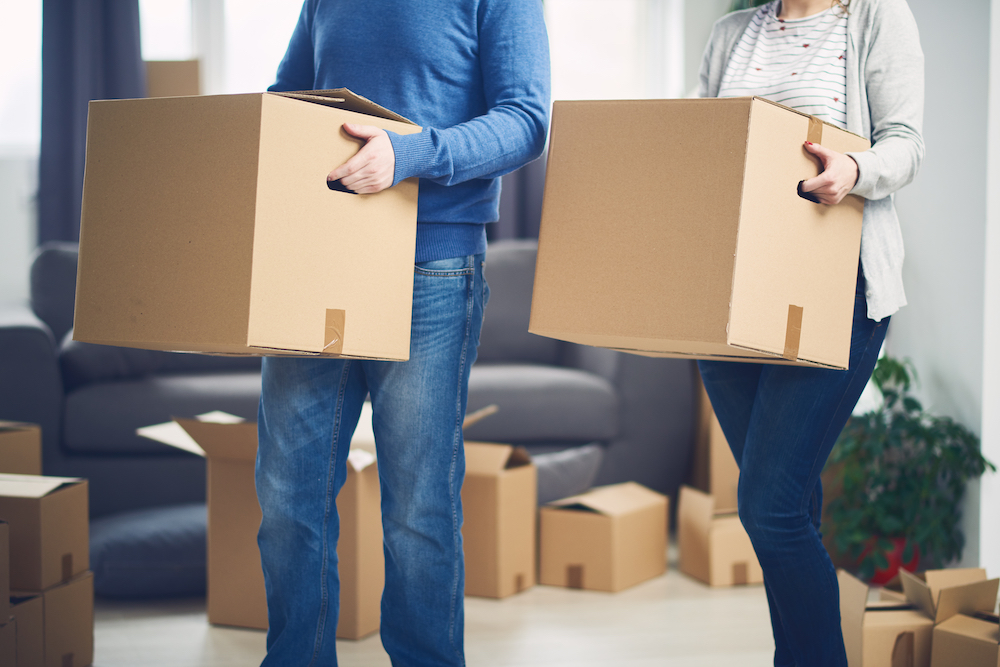 What to Buy Before You Move
You never quite know exactly what you're going to need before you move into a new apartment. The more time you spend in the space, the better of an idea that you get of what would be the best fit for each room and how to best utilize that portion of your apartment. 
However, there are some basics that you know you're going to need. Before you go, make sure that you know exactly what you're going to do about your bed frame and mattress, because having somewhere comfortable to sleep is probably the most important thing you'll need out of everything. A couch is another big purchase because making sure that you're comfortable in your apartment is a top priority. Get these things before you move in, whether it be purchasing them brand new or getting them as a hand-me-down from a friend or family member, because your comfort is paramount in a new space.
Luxury Living at Woodside
Here at Woodside, our apartments for rent in Kansas City have much of what you're looking for in a first apartment. From luggage and grocery carts available for use, to our underground, gated parking area for residents, to guest suite rentals for those guests that you just can't fit into your apartment, Woodside has it all. 
Couple that with access to our on-site health and fitness club included with your rent, and you've got the makings of an apartment complex that you'll love to call home for years to come. If you're interested in making your home at Woodside a reality, contact us today to schedule a tour!