Winter can be a difficult time to maintain an energy-efficient electric bill because of the weather. The winter chill strikes hard and fast, and trying to stay warm can cause your electric bill to skyrocket in a way that you might not be prepared for. 
However, no matter if you're in one of our apartments for rent in Kansas City or you're in your home in the suburbs, you're sure to want to keep that energy bill down. If you're looking for some ways to keep warm without breaking the bank, here are some tips that might be able to help:
1. Let the sun warm up your room
There's a reason why cats enjoy taking naps in the sun – and that's because sunlight is nice and warm! 
Even in winter, the sun can provide a great source of heat and light for your home. During the day, open all of the curtains and blinds in your home, allowing the warm sunshine to come into your home. Because your home is well-insulated, the windows let the light and heat in and keep it there, helping to heat your home.
You can also keep your lights off for the most part during the day! If you're in a room with enough windows to give you enough light, you might be able to get away with keeping the lights off or only using a minimal amount of light during the day. It's an easy and extremely effective way of cutting down your energy bill. 
2. Close vents and doors in rooms you aren't using
Are there any rooms that you don't use much – or at all – during the winter? If you're in a larger home or have older children, you may have children who are gone for college for the majority of the year and aren't often home to use their rooms. Or, maybe you have a studio or office that you only use sparingly, especially in winter. 
If you do have these spaces, then a good idea to save both heat and energy is to close those rooms off! Close the vents in the rooms and keep the doors closed to make the space smaller that needs to be heated. This makes the heat more concentrated in a small space, and you won't have to use as much energy trying to heat up a space bigger than you need. 
3. You can always wear extra layers
While our apartments for rent in Kansas City are plenty warm, there is always going to be someone in every building who wants to have the heat at near-tropical levels. The issue with that, though, is that keeping your heat at such a high level during the winter is going to shoot your energy bill sky high. 
A great way to save money during the chilly winter months is to keep the thermostat down, but to wear a thicker sweater or sweatshirt or utilize a blanket. It might seem like a basic answer, but there's no need to keep your house warm enough to wear shorts and a t-shirt in the dead of winter if you can simply wear long pants or use a blanket with the heat a bit cooler.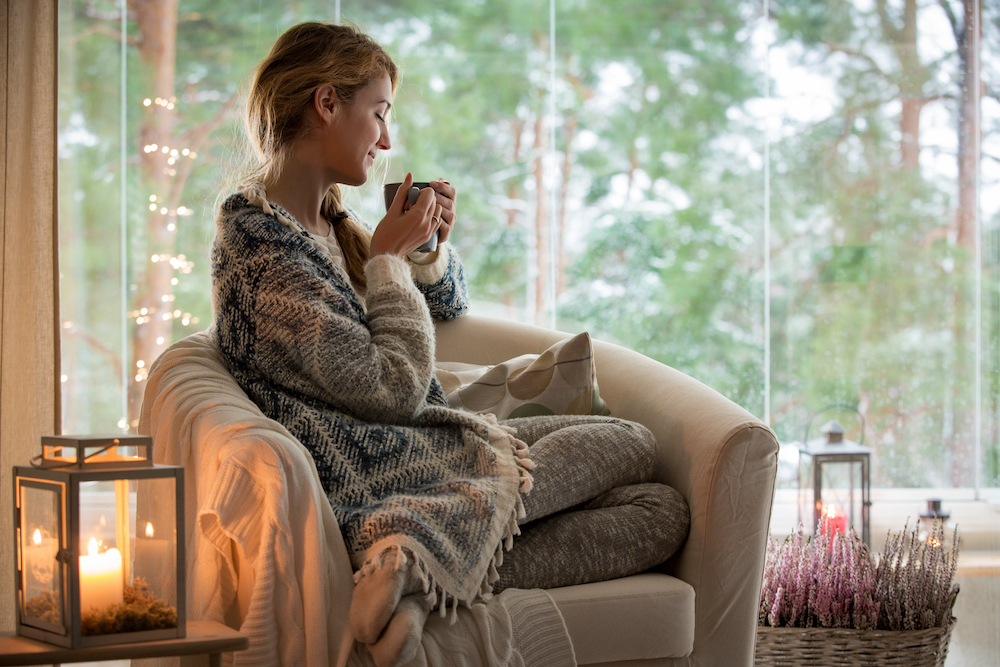 4. Space heaters can heat up a room with a fraction of the cost
If you're in a smaller space like one of our studio apartments for rent in Kansas City, then a space heater is your friend! Space heaters are perfect for heating up a smaller space and don't use nearly as much energy as using your full heating system in your home. Of course, it's not wise to use a space heater while you're asleep, so this trick won't be useful at night when you're ready to go to bed. However, during the day, try using a space heater instead of keeping your heat up high. It'll save you money in the long run!
5. Your oven can lend an extra hand
No matter how chilly it is outside, when you're cooking or using the oven, it gets warm in your kitchen. That's because you'll typically heat your oven to at least 350 or 400 degrees Fahrenheit to bake whatever you've got planned. But did you know that your oven could also help you heat your house?
When you're done with the oven and you turn it off, that heat doesn't immediately go away. Your oven will stay warm for quite a while afterward as it cools, so why not use that heat to your advantage? Crack the oven door open when you're finished with the oven and use the residual heat to heat the kitchen. The heat won't last forever, but as the oven cools, you'll be able to reap the benefits from the heat inside. 
6. Turn the thermostat down when you're asleep
When you're bundled under your blankets at night, you'll hardly notice if the thermostat is turned down a little more than is comfortable during the day. During the day, though you might have a blanket, it may not be as easily accessible if you're doing chores like cleaning, cooking, laundry, or more. However, at night, you're guaranteed to be bundled under warm blankets, snug as a bug as you rest after a long day. 
Before you go to bed, try turning down your thermostat a few degrees. You'll hardly notice the extra chill in the air while you're in bed asleep, and it can save you quite a bit of money in the long run. You might be surprised!
Apartments for Rent in Kansas City
Here at Woodside Village, we want to help you beat the heat of the summer or stave off the chill in the winter. Our stylish and modern apartments are the perfect place for you to stay out of the cold while staying within your budget. 
If you're interested in making Woodside Village your home during this winter season, contact us and schedule a tour today!