Whether it's your first apartment or your fifth apartment, trying to figure out how to decorate your home is something that many people struggle with. Sometimes it can be hard to make the distinction of what you might think is the best design route to go versus what the professionals actually recommend. 
When you're out looking for ways to decorate your apartment, remember that even the best apartments in Kansas City need a little homey touch to make them feel like you're finally at home. Looking for some ways to make sure you're staying on top of trends and not committing any kind of style faux pas? Let us help! Here are some decor mistakes you might be making:
1. Ceiling fans are a big no-no
Ceiling fans are one of the most common design features in any home or apartment, but their presence implies a lack of airflow or proper cooling. They're large and bulky and take up a large amount of unnecessary space. Plus, if you're in a room with a ceiling fan, it limits the kind of decorations that you can display on your ceiling or the top portion of the walls. 
If you need a better cooling mechanism in your apartment, replace the bulky ceiling fan for a standing fan, or simply open up the windows in your home to achieve the same effect. 
2. Don't hang art at the wrong level
Hanging art above eye level causes it to look strange when people walk into your home. All of the art in your home should be hung around eye level so that your guests or anyone else who comes into your home can easily observe all of the details in the artwork. Hanging the art above eye-level causes the image to warp and makes the art look a little strange in your home. It might seem odd to hang paintings a little lower in your home, but the clarity of the art it provides is worth it. 
3. You don't need to have matching furniture
Believe it or not, you don't need to worry about having matching furniture when you're picking out furniture for your home! A matching set of furniture isn't necessarily going to pull everything together. In fact, the designs of some of the best apartments in Kansas City have more mismatched furniture styles. 
Having all of your furniture be different but complementary colors and textures gives your apartment a bit more depth and dimension and helps it to not look so much like a showpiece. 
4. Don't leave a litter box out in the open
One thing that cat owners can all agree on is the unsightliness of a litter box. Litter boxes, while necessary for any cat owner, are unpleasant to look at and are an eyesore in any apartment. 
One way to keep your litter boxes easily accessible but out of sight is to make a hidden area for your cat to use the litter box. This can be accomplished by tucking the litter box into a utility closet or creating a custom piece of furniture to hide your cat's litter box. Custom pieces of furniture can easily be created from pre-made wooden cabinets or drawers with a little modification, and are perfect for giving both you (and your cat!) a little bit of privacy. 
5. Don't skip the front door decor
Front door decor is an often overlooked design choice for those living in apartments. Just because you live in an apartment doesn't mean that you can't deck your door out for holidays or make other chic design choices to up the "curb appeal"! Add a custom doormat out in front of the front door to your apartment, and don't be afraid to hang up a festive holiday wreath or any other decorations on your front door. While you may be in an apartment, it's still your front door and you can decorate it how you'd like! Plus, anyone walking by your apartment is sure to be delighted with the extra decorations and thought that you put into making your space feel homey and secure.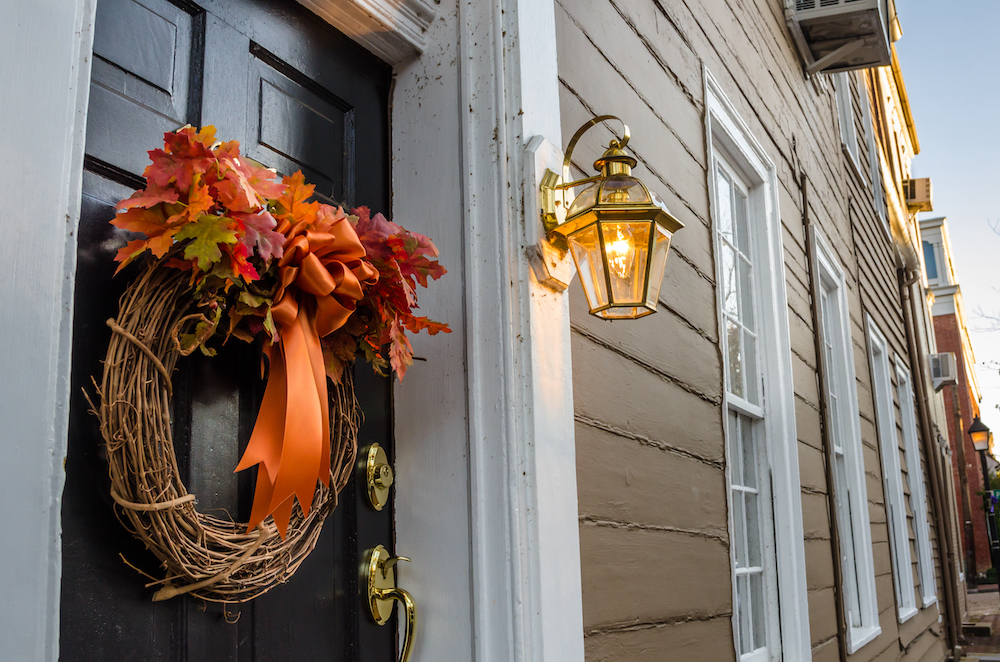 6. Get a proper hamper
One of the biggest eyesores in any apartment is the laundry hamper. It's necessary to keep any dirty clothing off of the floor, but having a basket or bag or dirty laundry hanging out in any room doesn't make for a good design. Plus, having an open hamper tucked away into your closet uses up valuable hidden storage!
Instead, invest in a nice hamper – one that doesn't have any open areas on the sides and has a lid to keep everything hidden from sight. Place it in an area like your bathroom or bedroom, and unless your guests go snooping, they'll never know what it is. It's a win-win!
7. Don't skip the recycling bin
There's nothing more important than taking care of the environment, and one of the easiest ways to do this is by recycling. Nowadays, the best apartments in Kansas City will have on-site recycling for you to have easy access, but what do you do with the recycling while you're waiting on your bin to fill up?
Keeping the recycling separated is necessary to make sure that it's all going to the right place, but having an open bag or box right next to your trash can makes for an eyesore. Instead, invest in a closed recycling bin. That way, all of your recycling is separated in a logical and easily accessible area, but it isn't just sitting out in the open in your apartment. 
The Best Apartments in Kansas City
Here at Woodside, we believe that our apartments are the perfect launching point for you to make your apartment into your home. Our modern facilities and stylish floor plans make it easy for you to make the most of your space and take advantage of all that we have to offer. With daily valet trash pick-up and on-site recycling, we make it easy to keep your apartment clean and tidy. Plus, with our large apartments, you won't be lacking in storage or areas to hang and display your artwork.
If you're interested in making Woodside Village your home, contact us and schedule a tour today!