Finding the perfect apartment isn't really that challenging and tedious. What makes it brutal are all the considerations that must align with the apartment you will choose. For instance, the suitable apartment should be within your budget, near your work location, or has your preferred layout and amenities.
It's really just all about your preferences in the end. However, it can be easy to lose track with so many details to consider during the hunting process. 
But don't worry because we've got you covered! Here are eight tips and strategies you need to know as you go through the best apartments in Kansas City.
1. Plan Ahead
Many renters don't really know when to start looking for a new place to move in. Some start their hunt too early, while others start it just as their lease ends.
But here's a great tip: start your apartment search one to two months before your lease ends or you need to move out. This way, you don't have to rush things or get stressed out with your looming end of the lease contract. Plus, you have the assurance that the unit you will eventually choose is still available once you start to move in.
2. Know Your Priorities
Before starting your hunt, it's important to establish your priorities first. This will be a helpful guide for you once you actually begin touring and visiting different units later on. 
Priorities vary based on your preferences and financial situation. Ask yourself, "What is the most important thing for me right now?" 
If you're looking for an apartment near your work, university, or parent's home, then location should be your number one priority. If you have a limited budget, you should look at the potential unit's rent fee before contacting the landlord.
3. Start Hunting for Apartments
Once you have established or listed down your priorities, it's time to start hunting for the best apartments in Kansas City. First, narrow your search down to the city level so you can explore the neighborhoods and see which ones speak to you the most.
You can also use the Facebook Marketplace, Google, or Google Maps during your hunting process. Make sure to consider the unit's proximity to the grocery store, hospital, dog park, and other places that you usually go to. 
Moreover, check the neighborhood's vibe, atmosphere, and activity level. You don't want to end up in a sketchy community or one that always has a late-night party on workdays.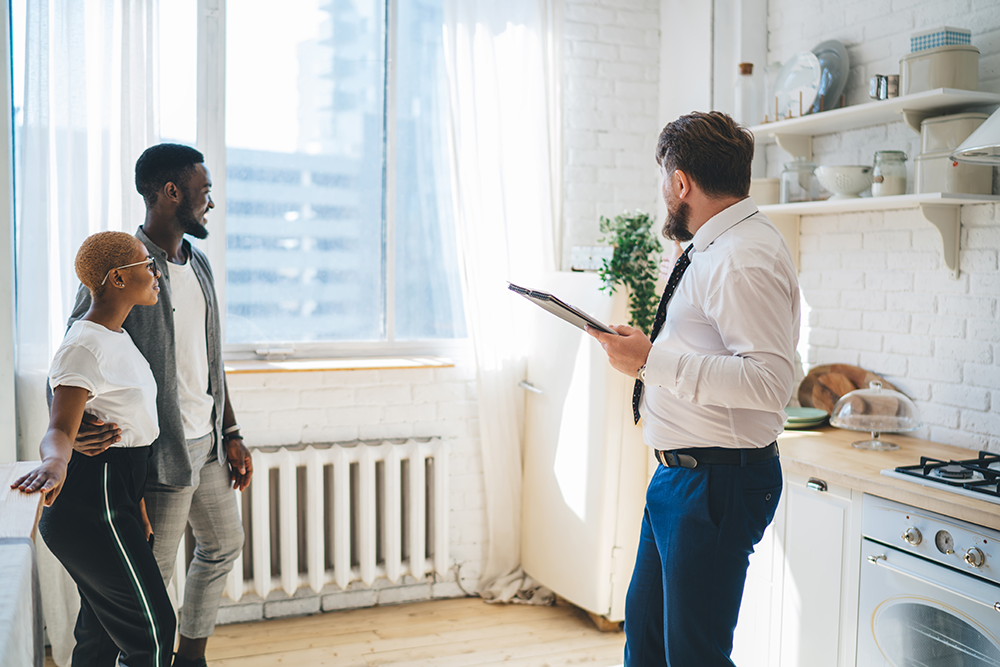 4. Tour and Inspect
List down at least three to five apartments that you have set your eyes on. Then, contact the landlord and schedule a tour of the potential units. 
As you make your way inside each apartment, make sure to check its space and layout. Then, imagine transforming it into your own space and see how that makes you feel. 
Additionally, note the property's unique details, structure, or something that you love about it. This can become useful later during the decision-making process as you compare each unit. While touring, another essential thing to consider is the amenities available, which we will discuss below.
5. Consider the Amenities
Amenities can surely enhance a renter's living experience and allow them to experience their dream lifestyle. Therefore, the perfect apartment is the one that has the amenities that you want and need, so make sure to check it out during your tour.
You can make your hunting process easier by coming up with a list of must-have amenities that you want in an apartment complex. Some examples include:
Fitness facilities

Pools or a sundeck

Day spa or beauty salon

Personal locker for mail and deliveries

Valet and concierge services

Free parking
Additionally, you can list down some "nice-to-haves" in-unit amenities, such as complimentary WiFi, cable access, a washer and dryer, and CCTV cameras in the lobby or hallways.
However, you need to remember that your priorities take precedence over luxurious amenities or extra building features unless your number one priority is the amenities.
6. Ask the Important Questions
After inspecting your potential unit's layout, style, and amenities, it's time to ask the landlord some critical questions. Cover your bases first before deciding which of the best apartments in Kansas City is right for you. Some of the queries to ask your future landlord are as follows:
What are the pet and parking policies? Do they require extra fees for such things?

Are utility fees included in the rental price?

How much is the security deposit, and how many months does it cover?

Do you need to get renter's insurance?

Ask about the ease length options or possible rent fee increase.

What are the trash collection policies, guest policies, and maintenance?
The best thing to do is list down the questions you want to ask, so you won't forget any important ones if you get overwhelmed during the tour. 
7. Weigh the Pros and Cons
Once you have all the information, it's time to weigh the pros and cons of each apartment and its neighborhood, amenities, and services. Make sure to factor in your budget the additional fees, security deposit, and application process fees. You also need to set aside a budget for the moving process.
After deciding on the perfect unit for you, you need to act fast and begin the rental application process. Unfortunately, units come and go, and sometimes, the apartment you set your heart on won't be available anymore.
8. Rental Application Process
Landlords use the rental application process to screen future tenants. This usually requires a small fee and lasts no more than a few days. Some of the relevant documents and information you need to submit include:
Valid identification cards

Previous rental info and address

Current employment details

Social security number

Proof of income and other financial statements

Rental references such as your previous landlords, a colleague, or close friend.

A completed apartment application form
Once done, you can submit it and wait for your application to get approved. 
That's it! These eight tips are all that you need to find the best apartments in Kansas City. You are now ready to begin your search for a new home.