We spend a great deal of our time in our bedrooms. It's the one place in our homes where we can seek refuge and do whatever we want. However, there are also obstacles in keeping this space as a safe haven, and you guessed it right—clutter. Fortunately, there are foolproof organization tips you can easily apply to transform your bedroom into a stylish, clutter-free space.
Here's how you can revamp your Kansas City luxury apartment bedroom into a happier and more efficient place.
1. Organize by Category
We have this tendency to store similar items in different locations in our bedroom mindlessly. Not only is this inefficient, but it also ruins the dynamics of your space. As such, it's better to start organizing your room according to categories.
For instance, instead of randomly hanging clothes in your closet, start to arrange them by pants, shirts, dresses, and so on. You can then branch this practice to other items like books, stationeries, sentimental items, etc. It may seem quite challenging to keep this habit at first. However, once you get used to it, you'll achieve the neat and organized bedroom look you're going for.
2. Arrange by Color
Following a color scheme for your bedroom is not only aesthetically pleasing but will also boost your motivation to organize. This tip will be a delight for people who have a particular color palette aesthetic in mind.
The key to this is to arrange your things by the gradation of color, from light to dark. For example, you can organize your clothes in the drawer according to lighter and darker shades. It will also make it easier for you to retrieve what you're looking for in your room whenever you need them.
Here's another bedroom color scheme hack: Opt for delicate color schemes to make your room soothing and relaxing. You can go for neutral colors like creams, white, or other light color palettes. You can also add bolder pops of colors for accent according to your style. Don't be afraid to experiment!
3. Utilize the Space Under Your Bed
It is perhaps one of the most functional bedroom storage tips for both small and big bedrooms. You can either customize your bed to add drawers underneath or place storage boxes under your bed. There are storage boxes with wheels you can buy that you can easily pull out and push back under your bed. You can label these drawers and boxes according to their category for easier retrieval.
This space-saving area is primarily meant for items you don't use frequently. It can include items such as seasonal clothing, sentimental items, files, sports equipment, etc. With this technique, you won't have to scour endlessly to retrieve your things when you need them. Plus it helps to keep your stylish Kansas City luxury apartment looking clutter-free.
4. Make Sure You Can Move Around
Having a lot of things in your bedroom is both a good thing and a bad thing. For one, you quickly have access to everything you need at all times. But on the other hand, some, if not most, of these items can be just clutter that ruins your bedroom's style and functionality. Always remember that your room should be a place for relaxation. Thus, you must not feel overwhelmed with the number of items you see as you scan your eyes through your room.
It may seem like the most basic of organization tips, but make sure you can move around your room. You must be able to walk around the floor space without tripping or bumping through things and move with ease. If this is the case for you, you might want to rethink the present dynamics of your room. Do you have excessive furniture? Are your things in the right place?
5. Consider the Visual Weight of Furniture
Every piece of furniture in your room has a visual weight. Sometimes, even if you have just the right amount of things in your room, this visual weight can affect the overall energy of your room. For example, having a bed frame with no headboard has a lighter visual weight than a wide headboard. A heavier visual weight can make your space feel cluttered even when it's not. However, it still highly depends on how big or small your room is. 
The bed is often the focal point of the bedroom. Since this has visual softness, you can spread this softness to another location in the room using rugs, window drapes, or plush throw blankets. It will help you prevent the rest of the space from looking (seemingly) overly hard visually. Another trick to balance the visual weight of any bedroom is utilizing a wall mirror as it can "add" space to your room.
6. Use Drawer Organizers
Organizers, organizers, organizers. They are your best companion in organizing your bedroom with style. Using drawer organizers, you can fully maximize your drawer storage while keeping the arrangement of your small clothes and accessories eye-pleasing. It is unlike tossing these small items mindlessly inside the drawer and then later having a hard time retrieving them.
Here, you can organize your watches, jewelry, cosmetics, hair accessories, socks, undergarments, etc., in place.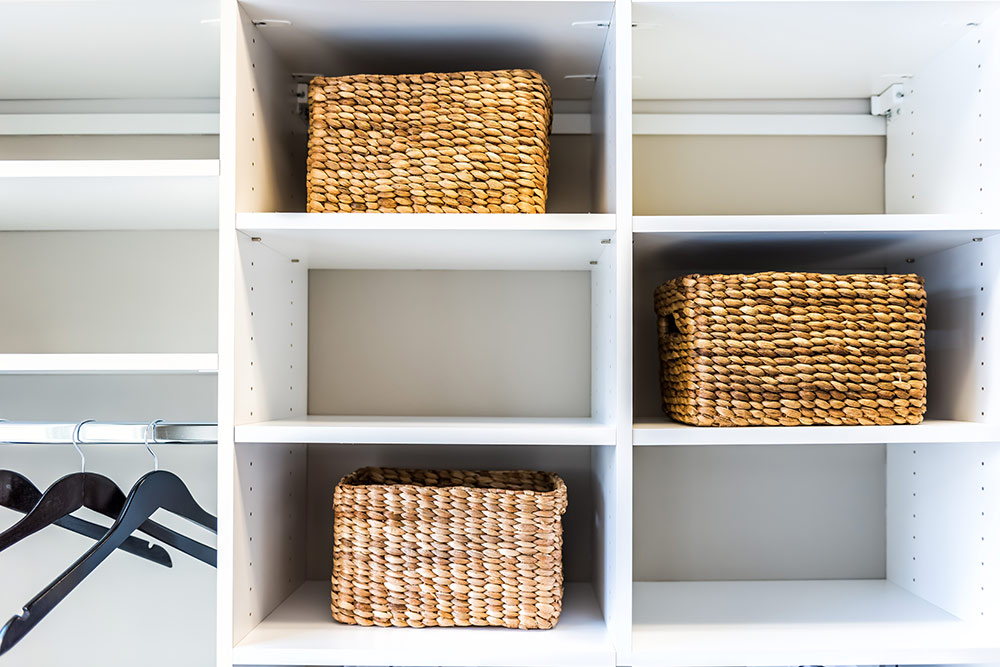 7. Use Storage Boxes as Decoration Accent
You don't always have to hide storage boxes, and this goes for both small and large storage. For instance, you can label small storage boxes for stationeries on your desk for an added aesthetic and functionality. For larger boxes, you can keep them in sight by DIY wrapping them in jute rope, a large, vintage trunk, or you can simply buy decorative storage boxes. You can also apply this tip for creating an undercover drop for your hamper.
8. Install a Pegboard
Finally, you can never go wrong with a pegboard. By mounting it to the wall, you can use it for hanging essentially everything. With a few screws and painting, you can mount your pegboard strategically in your room. Here, you can hang baskets, picture frames, accessories, bags, scarves, notes, and so on. The key here is to use your creativity to make open storage neat and visually pleasing.
Organize Smartly!
Reassess the things you have in your room and decide whether they are serving their purpose. If not, it's probably time for them to go, or you may have to replace them with another variant for style and efficiency. With the proper storage organization solutions, you can turn your Kansas City luxury apartment bedroom into a safe, stylish haven.