One of the most difficult hurdles to living in an apartment is having a lack of storage space. That lack of storage space can show up at the most random times, but one place that you're almost guaranteed to feel it, is in your kitchen.
Not only is the kitchen in the heart of your apartment, it also houses some of the most random items that you actually need to use. Pots and pans, baking sheets, and even appliances all take up space in your kitchen. But when you have a small kitchen, where are these items supposed to go?
Woodside's apartments for rent in Kansas City are no exception to the rule. Any kitchen, no matter how big or small, can suffer from a lack of storage space and organization. Here are some ways to declutter your kitchen and bring new life into your space:
1. Declutter everything 
The first step to decluttering your kitchen and organizing everything is to, yes, actually declutter your kitchen. Start going through the items that you rarely use. If you aren't a big baker, you don't need to keep the Bundt pan and the six boxes of cupcake liners in your cabinet. If you live alone, why do you need ten separate baking trays? The answer: you don't. 
Think about the items that you use the most often, and consider donating or selling the items that you don't need. This will help you to keep your kitchen clutter-free, and help to keep everything more organized. Not only is this perfect for finding things more easily in a small kitchen, but it is also perfect for making moving easier when you move to one of our apartments for rent in Kansas City!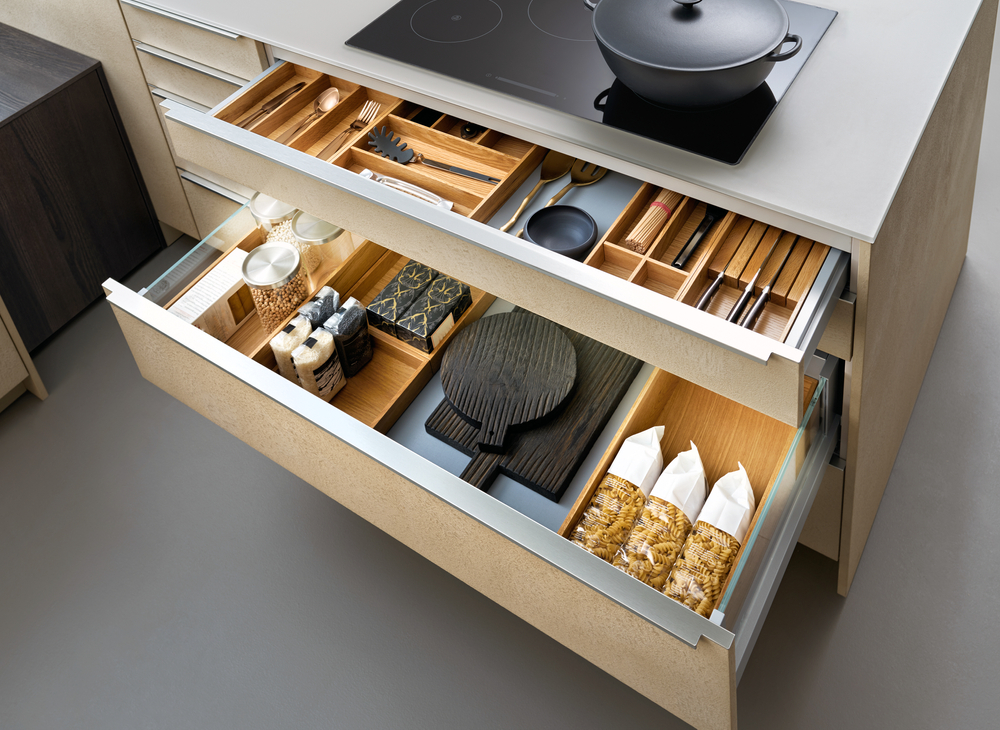 2. Store seasonal items away when not in use 
Seasonal items are cute and fun additions to our kitchens to make them a bit more festive, but they are a bit out of place in your decor during the rest of the year. For example, your Christmas tree baking dish doesn't exactly go with your Halloween decor, does it?
While there are some seasonal items that you may use as a part of your regular decor, the majority of seasonal items are kitschy decorations for only a couple weeks out of the year. They may not match with your usual decor, and they likely feel very out of place. 
Instead of keeping the seasonal decorations displayed, find somewhere to store them when they're not in use. Get a plastic tub or bin, and store them under the stairs, in an unused closet, or even under your bed. Just because they're kitchen items doesn't mean you have to keep them in the kitchen at all times! Find an out of the way place to store them and save yourself some space. 
3. Use risers in your cabinets 
It's a fact of life that sometimes cabinets can be designed poorly. With shelves that are too deep, or sometimes not deep enough, making all of your things fit into your cabinets snuggly can be difficult. This is why having risers in your cabinets could be such a game changing idea.
Try adding risers into your cabinets where you store things like plates, cups and bowls. This will allow you to stack items on top of each other that would not normally be possible. This can save you time, money, and space, all while making a fashionable design choice for your apartment.
4. Choose the right organizers for your space 
Something that many people don't consider when they're trying to design the new space is to choose things that actually fit in the space. While you might enjoy those large risers or those colorful organization boxes, you have to be sure that it actually fits the space you need it for. Having organizational tools is going to do you no good if you can't use them. In fact, it accomplishes just the opposite!
Before you go shopping for organizational tools, catalog what you have and what you need. You may not have enough plates to need several sets of risers, and you might not need a wide variety of containers to hold your dry goods. Purchase organizational items based on what you have, and not what you think you're going to have. You can always add more, but if you buy too many things at the beginning, it's just going to create more clutter.
5. Purchase a kitchen cart 
For kitchens, without a lot of extra space, a kitchen cart can do wonders for organization and storage. Common appliances, like microwaves, toasters, and coffee pots can take up a lot of much needed counter space in your kitchen. With a kitchen cart, though, you can have space to have your cake and eat it too.
By moving bulky items like microwaves and toasters off of your counter, you have more space to cook, store, food, organize, and entertain. Plus, in a pinch, you could use it as a small buffet for a dinner party. You'll be asking yourself how you ever survived without one!
Organizing the Kitchen of Your Dreams at Woodside 
The moment you step into one of Woodside's apartments for rent in Kansas City, we know that you'll have a million and one ideas running through your head of how to best make the space yours. Organizational hacks, DIY's, and Pinterest boards are probably scrolling through your mind like a ticker tape.
While decorating your apartment is one of the most exciting aspects of owning your own place, don't allow yourself to get caught up in buying all of the organizational tricks, but leave yourself with a lot of extra and unnecessary clutter. Enjoy the excitement of being somewhere new! Woodside has incredible amenities, delicious places to eat, and even an on-site spa! You'll be enjoying all of the amenities that you may not even have time to think about organizing your kitchen – at least for a while. 
If you're interested in seeing what Woodside has for you, contact us and schedule a tour today!