Sometimes, it's hard to believe that it's been over three years since office doors were shuttered and workers were encouraged to work from home. Computer areas quickly had to become fully functional work from home offices, complete with all of the trappings of your typical 9-5 office. In a pinch, workers were using lap trays, kitchen tables, and more to try to accommodate for the sudden need for an at-home office. 
Three years later, those same workers have slowly been able to change and grow their work from home space. Having a proper work from home space has become an important part of the home buying process and apartment-hunting process extremely quickly. But if you've been using the same space for three years running, you deserve to have a bit of an upgrade to your space! Woodside Village has some of the best apartments in KC for that. 
Here are some ideas to get you started if you're looking to revamp your space: 
1. Give yourself a piece of the outdoors, inside
Working from home can be difficult if you aren't getting enough time outdoors. A wonderful way to brighten up your workspace is to bring a little of the outdoors to your office area. Even just having a little bit of nature in your workspace can help you to feel more calm and relaxed, especially when you're feeling stressed from the day. And, while Woodside has some of the best apartments in KC, it's in the middle of a city, which doesn't always give you the ease of access to go out and enjoy nature on your own. 
Try bringing in a couple of small plants to help brighten up your desk. Succulents and cacti are easy, low-maintenance plants that only need water every now and then and sunlight to thrive. Or, if you're looking for something even more low maintenance, consider something like an AeroGarden. These easy to use planters water themselves on a timer and have a grow light, making them easy to maintain and use. Plus, they'll give you fresh herbs all year long!
2. Make things smell nice
After a while, office spaces can start to smell a bit musty if you use them every day. If you're using an area of your home with no windows, it can be hard to get a proper air flow in the area, making your office space not smell or feel as fresh as it could be. 
If this is your predicament, try adding some candles or a diffuser into your space. Giving your work from home area an update with something nice-smelling can do wonders for you. In fact, if you're interested in trying aromatherapy, then a diffuser might be an amazing choice! Some scents like peppermint and citrus can actually help to stimulate your brain to keep you focused and on task. Oils like lemon and bergamot can even give your home that freshly cleaned, springtime feeling, like you've just doused your home in sunshine. It's worth giving it a try!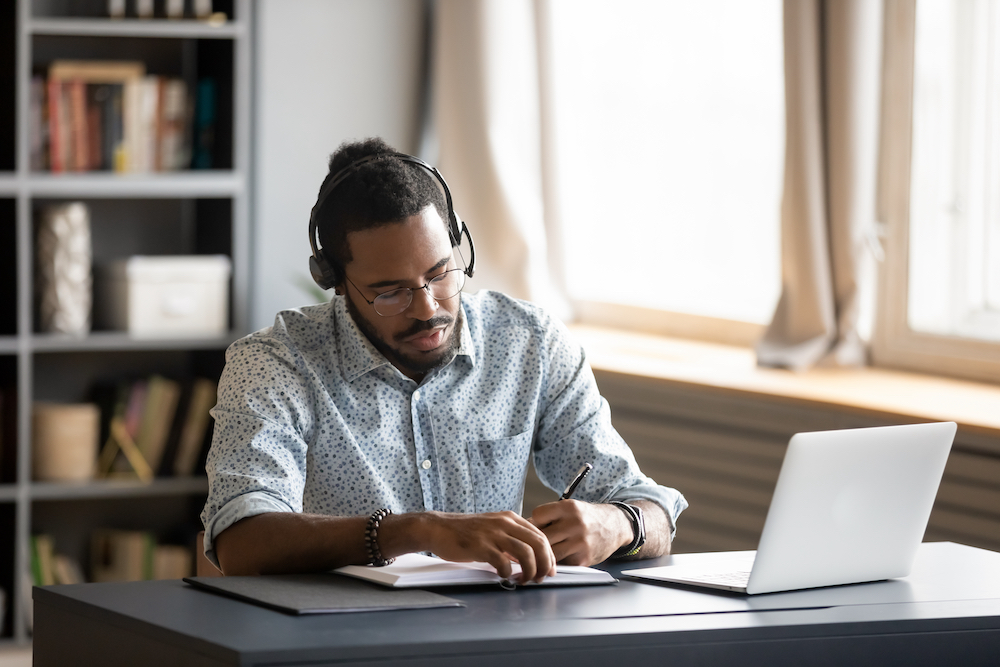 3. Try a standing desk
Working from home means that many people aren't getting the same level of exercise that they once were while heading into an office every day. While going to the office isn't much exercise, it's still more than what you get by simply heading to work at a desk that's twenty feet from your bed!
A standing desk is a great way to add in that extra bit of exercise that you're missing. Sitting for too long can cause back problems and add onto any aches and pains you may be feeling. In addition, consider getting a walking pad to add under your desk for those slow Zoom meetings or phone calls. It's an easy way to get a few more steps in during the day when you're not able to get outside as much. You won't regret it!
4. Make water breaks fun and exciting
There's a reason why the "water cooler" trope is all over sitcoms even today. For the longest time, taking a water break and shooting the breeze with your coworkers was a staple of the corporate 9-5 landscape. With the prevalence of working from home, though, chatting around the water cooler is now a thing of the past. 
Instead, while you're working from home, try making your water breaks fun and engaging. Get up from your desk and take a small walk around your apartment or apartment complex when you get up for a water break. You could even try updating your water with fruit infusions, trying a new sparkling water flavor, or even adding some water flavoring like the "watertok" girls endorse on TikTok. 
Even though you may not be in an office and can't use the excuse of a water break to go chat with colleagues, there's no reason why your water break can't be used for the same kind of purpose when you're at home. You just need to get a little creative about it!
Working and Living in the Best Apartments in KC 
While working from home has grown in popularity, it can still sometimes be a struggle. Being isolated at home means less time for social interaction, and while working from home can be an extreme benefit to many people, it can still feel lonely sometimes. This is why it's so important to give your work from home space the revamp that it deserves. 
Whether you're buying some new sparkling water to try, investing in a desktop herb garden, or trying a new essential oil in your diffuser, you can be sure that Woodside Village has the best apartments in KC for you to try something new. Centrally located and complete with bounds of modern amenities, Woodside Village helps to give you a fresh and new feeling, even when you're working from home. 
If you're interested in making Woodside Village your new home, contact us and schedule a tour today!