Even the best apartments in Kansas City aren't going to look like a million bucks if you don't decorate them. Having fun and unique decor is one of the best parts about having your own space and living in your own four walls! However, while decorating is one of the most fun parts, it can also be one of the most stressful. 
You're not always going to know what you're walking into when you first move into an apartment. Though you might have the measurements, you're never going to be entirely sure what you want to go where until you're actually standing in your apartment, trying to set everything up. 
It's not something you should stress over, though. Decorating your first apartment should be a fun time, and hopefully these decor tips will help get you started: 
1. Don't buy everything all at once
Though you might be tempted to purchase every decor piece you can get your hands on, you shouldn't buy all of your decorations, furniture, kitchen supplies, or anything else right up front. You won't know exactly what you need until you're able to fully get into the space and see everything for yourself. 
When you're getting ready to move in, make sure you have the basics: a bed, a couch, a television, basic kitchen supplies, and so on. However, don't go out and purchase a bunch of unnecessary furniture that you might not even be able to use! Even the best apartments in Kansas City aren't made to magically expand, and so purchasing furniture that may not fit or decor that makes everything too cluttered would simply be a waste of money. 
2. Get creative with bathroom storage 
Bathrooms in apartments are typically small, so maximizing your storage is important. Shoving a random assortment of storage solutions into your tiny bathroom, though, can make things look cluttered. Instead, get creative with some of your bathroom storage! Use an over the toilet shelving unit and decorative baskets to store away bathroom essentials. If you're short on counter space, get a colorful rolling cart to add extra shelving and a bright pop of color. You'll be surprised at what these little changes can do!
3. Extra seating is always welcome 
Inviting guests into your home is always an exciting experience. You want to be able to share your home with the people that you love, like your friends and family, and treat them with special care when they're visiting. Making sure that you have enough seating to comfortably do so is an important part of that!
Don't feel like you need to have massive recliners or huge couches to have enough seating though. Find seating that can double for other uses! A cute stool can make for a unique side table when not in use. Ottomans make for great footrests, storage, and seating if need be. You can even get some camp-style folding chairs and store them in a closet or out of the way and only bring them out as needed. Making sure that everyone has a seat is important!
4. Bring brightness into your apartment with plants 
No matter what time of year it is, bringing plants into your home is a great way to brighten up the space and make everything feel more alive. Whether you're in the dead of winter and waiting for spring to arrive or in the heat of the summer wanting to soak up every last bit of the greenery around you, plants can help you bring the outside to the inside in a fun and festive way. 
Decorate your window sills with small succulents, or line your windows and tables with creeping vines or flowery plants. Whatever your plant style, bring it into your home with love, and they're sure to make your home feel livelier and happier.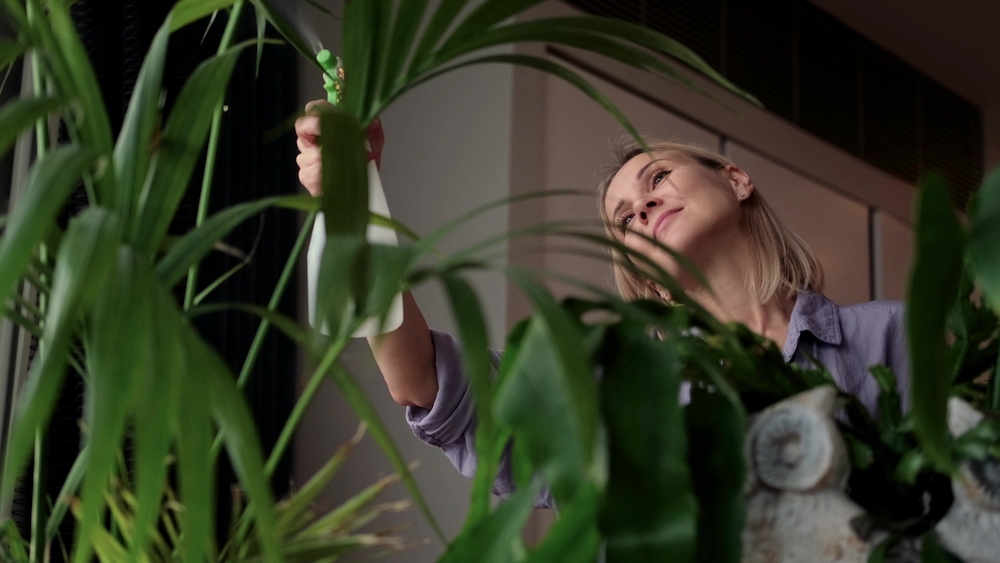 5. Jazz up inexpensive furniture 
Don't feel like you need to buy brand new, name brand furniture for your first apartment – or any apartment for that matter. Buying inexpensive furniture and jazzing it up to make it unique to you is not only a great way to make your apartment feel more like home, it's a great way to save money and still get exactly what you want. 
Did you go to a thrift store and find the perfect table, but it's simply the wrong color for the vision in your head? That's okay! Paint the table to whatever color you want. Use colorful wallpaper in the back of your bookcase to add character. Combine pieces of furniture together to make them work for you. Work with what you have, and don't worry about dropping the big bucks if you don't have to. 
6. Add some rugs 
Some of the best apartments in Kansas City are studio apartments, and splitting them up into areas might be a challenge. A great way to do that is by adding rugs!
Use rugs to differentiate between sections or to create zones within your space. Or, even if you aren't in a studio apartment, adding rugs can add so much character and fun to the bare, empty floors of your apartment. Choosing the right rug can bring a much needed pop of color to a room or add something soft and cozy to stand on during a cold winter's night. You won't regret adding a rug or two to your space!
Woodside Village: The Best Apartments in Kansas City
Here at Woodside Village, we want you to be able to feel at home. Whether this is your first apartment or your sixth, we want you to feel comfortable, happy, and safe in whatever apartment you're in. 
If you don't feel like you have enough space for guests, then don't worry! Woodside offers guest suite rentals for visitors, so you won't need to worry about breaking out those extra chairs. Plus, with daily valet trash pickup and on-site maintenance and recycling, it's easy to change up your style whenever you want, and we can help you with the clean up. 
If you're interested in making Woodside Village your home, then contact us and schedule a tour today!