Getting organized is a common New Year's Resolution – one that many people have a hard time following. Getting organized – and staying organized – can be extremely difficult without a ready-made game plan in place. In fact, sometimes people's organizational attempts only make the problem worse, not better!
Don't let that be you. Organizing our Kansas City luxury apartments here at Woodside Village may be one thing, but there are tips and tricks that you can take into every home and apartment. Not sure where to begin in your cleaning journey? Read on to find out some hacks to get you started:
1. Label everything
Like many people, you might be guilty of tucking items into different boxes, bags, or totes to organize, with the promise to yourself that you'll remember where everything is. We all know that this isn't always the case! When you start on your reorganization journey, don't think that you'll remember where everything is. A year from now, a month from now, or even a week from now might not remember what it was you put where, or what your organizational system was supposed to be. 
While you're organizing, start labeling everything. Even if all you have is some clear tape and a Sharpie, use that to make notes of where everything is. It'll save you a lot of heartache (and a lot of cleanup) in the future when you go looking for something. 
2. Put containers inside of your drawers
We're all guilty of having desk drawers, kitchen drawers, bathroom drawers, and more that are completely filled with things that have zero organization. We might have a vague idea of what's in the drawers, but it's uncertain unless you go digging through the drawer entirely. 
That's where organizational containers come in. When you're cleaning out and reorganizing your drawers, invest in small containers to place within those drawers. These containers can help keep you organized and can help you find things that you might need!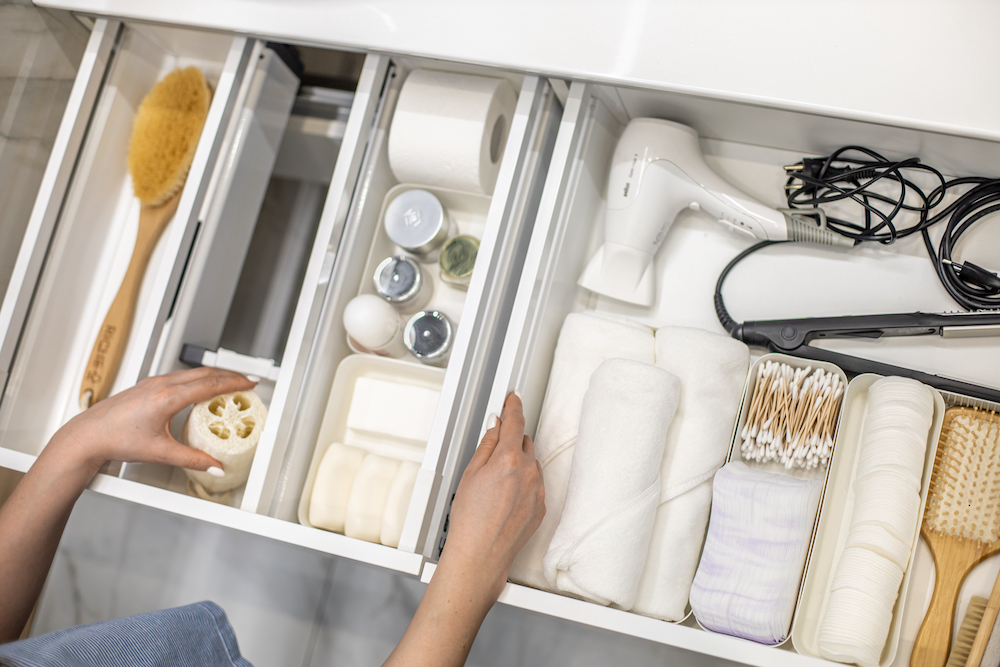 3. Add organizers to your closet
Sometimes, even the nicest Kansas City luxury apartments could use a little extra storage space, and adding organizers to your closet can help you do just that. It doesn't have to be anything elaborate; you could add some small shoe racks to help keep your shoes organized, bins to store bags or accessories, and more. The possibilities are endless. 
Also, you shouldn't be afraid to use the wall space in your closet as well! Hang hat organizers, accessory organizers, and more right on the wall. It's a space saver, looks super organized, and gives you some extra room in your closet. Plus, don't forget about over the door organizers. Whether it's a shoe organizer or simply bins to store additional items, making use of that over the door space can add a lot more storage to your closet!
4. Use bins under your sink
We are all guilty of having a disorganized sink at some point. The cabinet under the bathroom sink tends to become a catch-all for cleaning supplies, miscellaneous bathroom supplies, and more. Plus, because of the way that the cabinet is structured, it's hard to ensure that everything stays organized!
One way to combat this is by using bins and drawers under your sink. You'll be amazed at how much stuff you can fit under your sink (and how much easier you can find everything) if you have it sorted out into bins. No more digging furiously through the depths of the darkness under your sink to find the toilet bowl cleaner. Your future self will thank you. 
5. Vertical storage is always a must
Kansas City luxury apartments can have less than ideal storage situations sometimes, just as any apartment can. What can you do to combat this? Move it on up!
Vertical storage is a completely under-utilized storage method for keeping things as organized as possible. You'll be amazed at what can look incredible hanging on the wall as decoration when it's simply storage! Books, hats, scarves, and more make for incredible dual decoration and storage.
Don't discount vertical storage in other rooms of your home, either. The vertical space above the toilet in the bathroom can be an integral part to your space-saving journey, and having a designated spot to store bathroom items can help save a lot of storage space elsewhere.
6. Over the door shoe racks – the ultimate organization hack
Over the door shoe racks can be an organizational game-changer if you use them properly. Not only are they perfect for their designed purpose – storing shoes – they can be used for so many other things to make your life easier. 
These over the door racks are incredible for storing cleaning supplies on the back of a door, making them easily accessible in each room or for any purpose. These racks are also great for storing snacks in the pantry, making it easy for kids to grab and go for lunches, snack time, and more. Not to mention they're great for storing gloves and scarves, socks, and other garments. The list goes on and on!
Not only do these racks make great use of the often-neglected space behind your door, they can also add a new level of organization that you may not have considered before. 
Woodside Village – Kansas City Luxury Apartments
Here at Woodside Village, we understand that getting organized is a huge commitment, and one that's sometimes difficult to maintain. It doesn't have to be, though! Coming up with a game plan and using some of these hacks can help turn this from a daunting task into one that you're ready to tackle. 
Plus, some of our amenities can give you a helping hand. With daily valet trash pickup and on-site recycling and maintenance, we're able to give you a little extra nudge in the right direction. Let us take a little of the weight off of your shoulders. If you're interested in making Woodside Village your home this New Year, contact us to schedule a tour and get some more information today!