Trying to figure out how to improve your rental kitchen can cause a big headache. You want to make your kitchen fun and exciting, but you don't want to change too much if it isn't a place that you own! However, you want to make it feel like home and have your kitchen be somewhere that you want to spend a lot of your time. 
Fortunately, many apartments like our apartments for rent in Westwood here at Woodside Village serve as an awesome blank canvas for you to be as creative as you want. If you're wanting some renter-friendly hacks to improve your kitchen, here are some ideas:
1. Add a rug
Rugs are a super easy way to add a pop of color to any room, even the kitchen! Because kitchens often have tile or linoleum flooring, a rug adds a bit of contrast to the kitchen that draws your eye. 
An outdoor rug or a non-slip kitchen rug would be perfect for the cooking area, since those kinds of rugs can be easily cleaned. After all, it wouldn't do to spill something like wine or tomato sauce onto an expensive rug and not be able to clean it! Look for a material that isn't going to be difficult to clean, but one that matches your vibe and adds some character to your kitchen space. 
2. Use colorful cookware to liven things up
Rugs aren't the only way for you to add a bit of color into your kitchen. If you don't have a lot of storage space for pots and pans, display them on the stove or counter as decoration! Kettles, especially, are a great statement piece to add into an otherwise monochromatic kitchen setup. 
However, you don't only need to use kettles. If you've got brightly colored pots, then it's okay to leave them on your stove. It'll add a nice bit of color and give your kitchen a bit of personality in an easy way. Just make sure to keep them clean! And if you want your house to smell delicious, you could even use one of those brightly colored pots to make a simmer pot, letting the scent fill your whole apartment. 
3. Get a green thumb
There's nothing that adds a bit of personality to your apartment quite like household plants. If you've got a green thumb, add some plants to your kitchen! Herbs, especially, would be perfect to display in your kitchen since they're useful just as they are. Plus, our apartments for rent in Westwood can offer some incredible light for your plant babies to thrive!
However, if you simply do not have a green thumb, that's okay too. Fake plants can do the trick, too! It just might not smell as delicious as fresh plants. They'll still bring a nice personality to your kitchen, though.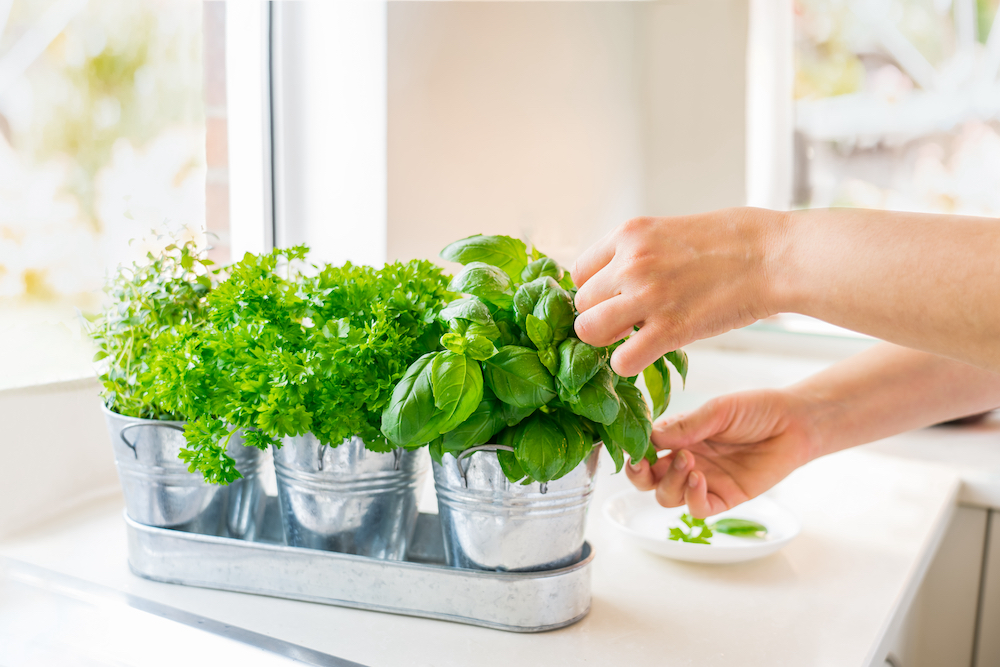 4. Embrace stick-on tiles and wallpaper
It's 2023, and this might be the year that you finally embrace stick on tiles and wallpaper! To change your look in a renter-friendly way, stick-on tiles and wallpaper really is the way to go. It doesn't do any kind of damage to your walls but adds so much personality and flair to what is usually a drab space. 
Use stick-on tiles to give yourself a cool backsplash that stands out from the rest of the apartment. Or, if you're interested in making even more of a statement, use some removable wallpaper to create an accent wall. It'll add an amazing pop of color and so much personality to your space. 
5. Paint the walls – if you can!
If your apartment complex is okay with you painting the walls… then do it! Adding a new coat of paint to your kitchen can make it feel like the space is truly yours. Not only can it add a bright spot of color to your kitchen, but it can also add some personality that it would otherwise be sorely lacking. 
Other companies may advise you to paint the cabinets, but if you're looking for a more renter friendly option, then the walls are the way to go. In the end, it's much easier to repaint the walls than it is the cabinets if need be!
6. Add open shelving… but not the way you might think
If you love the look of open shelving in a kitchen but need to do it in a renter-friendly way, you can still do so! Instead of ripping out the cabinets to add new open shelving units, simply take the doors off of your already existing cabinets. 
Most cabinets close using doors that are on simple hinges. All you need to do is remove the pin from the hinge and you've got open shelving! If you're feeling really ambitious, you could also remove the hinge housing from the shelves themselves, but that will just add a bit more extra work at the end than you might be willing to put in. Regardless, this is an easy (and renter-friendly) way to add open shelving to your kitchen without actually making any big changes. 
Check Out Woodside Village Today!
Whether you're in one of our luxury apartments for rent in Westwood or in another home or apartment throughout the country, you want to make where you are living feel like home. The best way to do that is by adding a bit of your own personality to your space, even if you can't change much in the fundamentals. That's why it's important to find some renter-friendly options that can help you make your space truly feel like yours. 
Here at Woodside, we want nothing more than for you to truly feel like you're at home. Decorate your apartment – your home – in a way that makes you truly happy to be in your space. We love seeing the creativity of our residents and we love the joy that you bring to the apartment complex.
If you're interested in making Woodside Village your home, contact us and schedule a tour today!