Moving is a stressful time for everybody, no matter your age or experience with moving. It's difficult to pick up your life and move, whether it's down the street or across the country. Each move is going to come with its own set of challenges, struggles, and worst of all, expenses. 
Until you start the moving process, you don't quite realize how expensive everything can be: moving company fees, packing materials, gas, extra rent, and more all add up over time. This is why planning and budgeting when you're moving is so important. 
Whether you're moving to our apartments in Westwood, KS, or clear across the country to Anaheim, here are some tips to help you cut your expenses when you're moving: 
1. Plan as far out in advance as you can
There's a saying that goes "the early bird gets the worm," and the phrase applies to many different types of activities and instances. In this case, this phrase can also apply to the idea that the early planner gets the best moving deals.
If you're able to, plan well in advance for your move. That way, you're able to give yourself time to shop around for the best deals, the cheapest moving supplies, and the ideal time frame. You'll have your pick of the litter in which moving company to use, what dates and times, and more. Plus, many moving companies will offer early bird specials if you book a certain amount of time before your moving date. Pick a less busy day during a less busy time slot, and you might have saved yourself hundreds of dollars. 
2. Move during the off-season
The majority of people move during the summer while the weather is warm and mostly dry because it makes the moving process a bit easier. Compound those factors with students moving in and out of apartments for college during the summer months, and you get an extremely busy moving season. 
If you're looking to save some money, consider making your move during the winter if you're able to. Just like hotels, cruise lines, and more, moving has an off-season as well. Taking advantage of the off-season means that you're less likely to pay an arm and a leg for the same services that you'd get during the summertime. 
This is especially important if you're planning to make a major move, like from your home in New York to our apartments in Westwood, KS. While moving in winter might not be ideal, the money you will save may be worth it. 
3. Do as much of it as you can on your own
While you might be able to get a good deal on moving services by booking certain times, there's nothing that's going to be as cheap as doing it yourself. There's a reason why rent-a-truck services are so extremely popular! Simply load up your rented truck, hook up your vehicle, and head out on your own time and at your own pace. You aren't paying anyone to help you, so you can take as long as you need to with loading and unloading your truck. 
For small moves, like those right down the street or within your same city, you might consider forgoing the truck all together and transporting as much as you can in your own vehicle. Sure, a car isn't going to be able to transport large furniture items like a bed or couch, but you'll be able to take smaller things like clothes, electronics, books, and other knick-knacks you might have around your home. If you have a friend with a truck, then you're golden.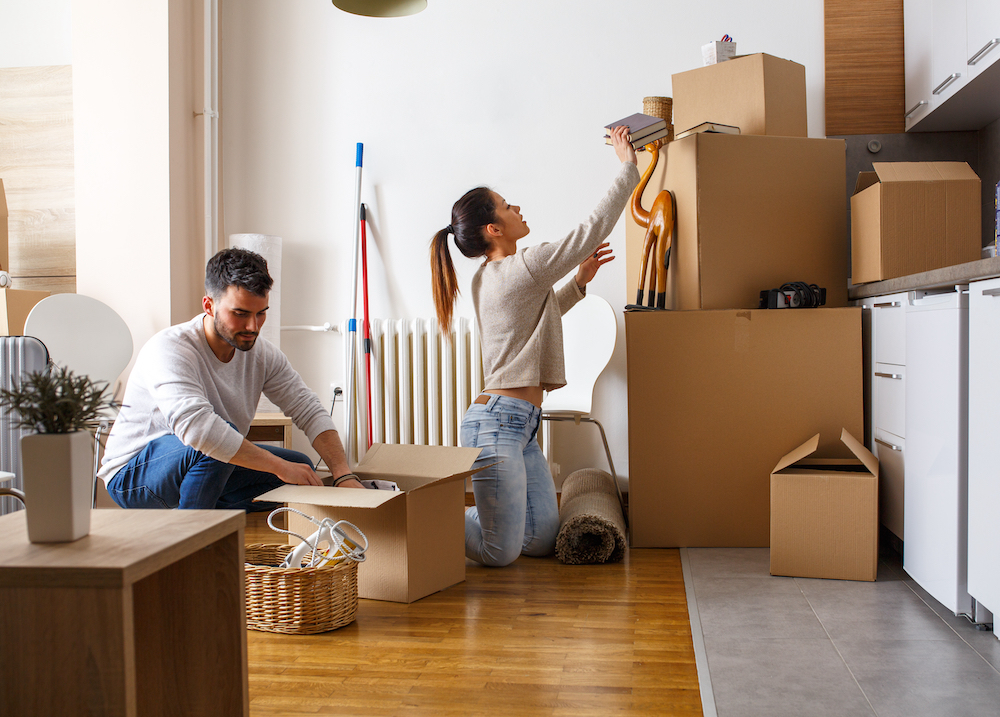 4. Search for free packing materials
Packing materials like boxes and bubble wrap can come with a large price tag that people don't always expect. While you might not think that cardboard boxes and bubble wrap can be expensive, the amount of it that you would need in order to successfully pack up all of your items might surprise you with the cost. 
Instead, go hunting for ways to lessen that cost. There are plenty of groups online that you could inquire about getting boxes, and websites like Freecycle are full of people offering up things they no longer need, like moving supplies. Don't be afraid to ask retail stores and grocery stores if you can have their cardboard boxes, too. Those boxes will go to the recycling bin or the dumpster anyway, and they're likely to hand them over to you if you ask. All you need to do is be resourceful!
5. Consult with your tax professional
Did you know that you may be able to get tax breaks for moving? It's true! Getting tax breaks depends on why you're moving, of course, but if you're moving for some kind of work-related reason, then you might be able to get some money off on your taxes because of it. While this may not save you any money at the outset, getting a tax break when you file in April would be worth it. Just make sure that you're saving all of your receipts and tracking all of your expenses, because your tax professional is going to need all of the information you can give them in order to get you the best refund. 
Making the Most of Our Apartments in Westwood, KS
Here at Woodside, we value all of our residents and we're proud to be able to offer them a home that they love, no matter if they're coming from down the street or across the country. We also understand how stressful and expensive moving can be, and so we're glad to be able to offer our residents a great bang for their buck here. 
Our incredible amenities are second to none. With modern appliances and finishings, valet trash, and access to the incredible Woodside spa, our residents understand that we value their hard work. They know that every rent dollar does to keep up with the amazing features we have for them. 
If you're interested in making our apartments in Westwood, KS your home, then contact us and schedule a tour today!