When you're on the hunt for apartments to rent in Kansas City, there's no doubt that the listings will be full of different studio apartments. Studio apartments, while very stylish, can sometimes be a bit harder to style and decorate than a typical one- or two-bedroom due to the lack of defined spaces around the apartment. In a studio apartment, it's up to you to designate those spaces for yourself, and it might be a little overwhelming to figure out how to get started. 
Have you seen studio apartments for rent in Kansas City or considered redecorating your current studio apartment home? Here are some tips that you might be able to incorporate into your studio apartment home:
1. Ditch the clutter and start with a clean slate.
When you move into a new apartment, it can be so tempting to pack up your entire life – junk drawer and all – to take to your new space with you. While it might be easier to simply dump everything you own into boxes and carry it along to your new place, it's not very practical. This is true in any moving circumstance, whether you're moving to a brand new six-bedroom house or to one of Woodside's studio apartments for rent in Kansas City. 
In a studio apartment, starting with a clean slate is vital to creating a calming space in your new home. You should build your decor around your big ticket items like your sofa, bed, tables, and other major furniture pieces. Having a lot of clutter just means that you have to find places to put it, and that's not something you should need to worry about when you're contemplating your apartment's design! Starting with a clean slate will give you the opportunity to truly make your space your own. 
2. Separate each space. 
One of the determining features of a studio apartment is that it isn't separated into rooms, save for the restroom. Other than that one (potentially) designated space, studio apartments don't have separate rooms. That means that you will have to designate your own spaces. 
Use items like room dividers or shelves to help you designate different areas of your home like the kitchen, living room, or bedroom. Use different decor in each space to help you keep the illusion of separate spaces, even if they feel on top of each other. By creating different designated areas in your studio apartment, it can help to give your apartment the feeling that it has rooms and gives you more of a sense of privacy instead of being in a wide open space. 
3. Multi-purpose furniture is your friend. 
While studio apartments are beautiful and popular for a reason, they don't have much storage and are, overall, very small. That's why having multi-purpose furniture can save you a lot of space and give your apartment that extra oomph it may be lacking. 
Ottomans are an excellent decor tip that add both extra seating and extra storage to your space. Use an ottoman to store spare blankets and sheets, and when guests come over, an ottoman makes a comfortable chair to take a rest. Double your dining table as your workspace to eliminate the need for a desk. Add a coffee table with storage baskets so that you can hide shoes, bags, and other random items underneath without all of the clutter of having them tossed into your closet. 
There are even some furniture items that you may not have considered could be double duty. If you lack kitchen space, purchasing decorative pans, pots, or a kettle that you leave on the stove could double as kitchen decor. Choosing stylish kitchen appliances can also breathe new life into your kitchen decor – without having to add anything extra!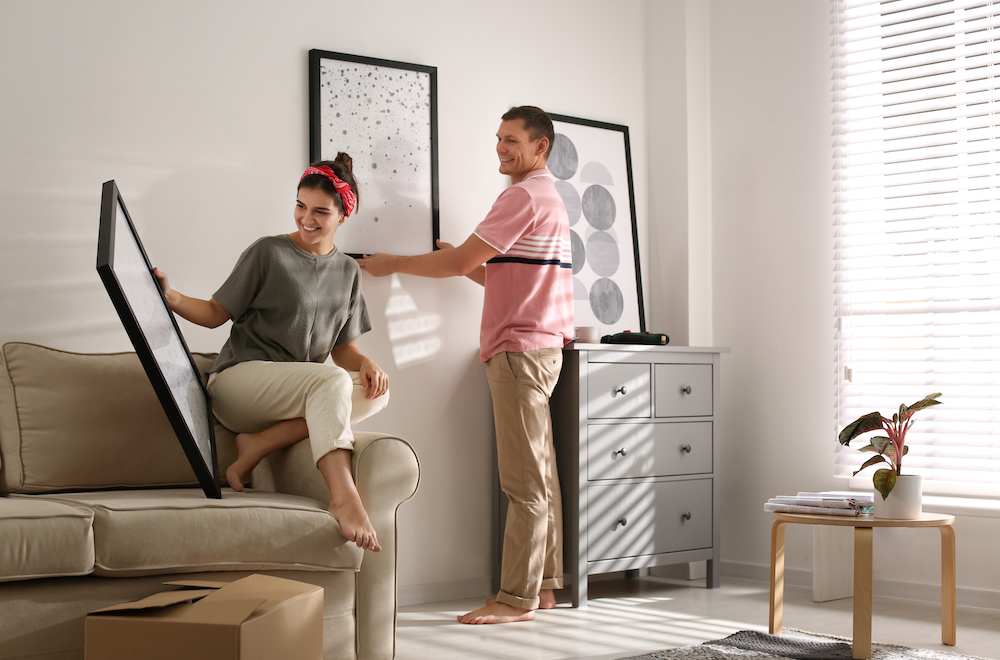 4. Choose a smaller bed. 
The comfort of a large bed is unmatched, but when you move into a studio apartment, you might have to sacrifice your queen or king-sized bed for a smaller, more practical full or twin bed. That is, of course, if you can manage it!
While you might not be able to spread out as much on a smaller bed, having a smaller bed will work much better in the limited space of a studio apartment. This is especially true if you're planning to use room dividers or shelves in order to separate the spaces of your apartment. 
5. …or consider using a daybed instead. 
Daybeds are an excellent option for space-saving apartments like Woodside's studio apartments for rent in Kansas City. Daybeds are like convertible beds; you slide them up during the day to make them into a kind of couch, and at night you pull them down to sleep. If your studio apartment is especially small, then a daybed might be the best addition to your home as it can convert a space from a living space into your bedroom. 
Another option for having a daybed in your apartment is that it provides an easy, space-saving way for guests to come visit. If you elect to use a daybed as your couch, then it's a quick, easy, and comfortable place for your guests to stay if they spend the night. THat way, you don't have to worry about finding somewhere for them to sleep or lugging out (and finding somewhere to store!) a big, bulky air mattress. 
Making the Most of Your Studio Apartment at Woodside
When you're looking to move on a budget, a studio apartment is a great option. However, because studio apartments are smaller and have a lack of defined room space, having a good eye for decor and making practical decor decisions will save you a lot of time, money, and effort in the long run. Woodside's studio apartments for rent are the perfect blank canvas for all of your decorating ideas. 
If you're interested in seeing if Woodside's studio apartments for rent in Kansas City are for you, then contact us and schedule a tour today!