Moving can be difficult and stressful, but it can also be fun if you use these tips! There are many different aspects of moving to consider, but having a plan will make the whole process much easier and more efficient. This step-by-step how-to guide will cover the most important steps of the process, including right after you finish the move.
Before the Move Checklist
Plan Out the First Day
Keep a special binder for the big day. It should include the names of movers, landlords, contact information, and an outline of your schedule for the day.
Lock in Your Moving Company
Schedule your mover as early as possible. You don't have to know exactly how much stuff you're going to move. All you need to provide is the size of your home that you're moving out of and the location that you're planning to move to. That should be enough information for them to provide you with a quote and lock in your moving day.
Deciding When to Move
It's usually better to move in the middle of the week or the middle of the month. Compare costs from a few different moving companies to see when you can get the best deals and go from there.
Try to Get Free Boxes
There's no need to pay for moving boxes (unless you want to save time). You can always find free boxes. Try first your local grocery store or a similar store to see if they're getting rid of any boxes. They might be willing to give them away for free. Also, check with your friends and neighbors to see if they have any spare boxes they don't need anymore.
Come Up With a New Meal Plan
Come up with a special meal plan 1-2 weeks before the move. You should try and consume as many of your perishables as possible so that you won't need to drag a ton of these fridge and freezer foods to your new place.
Let Go of Unwanted Items
This can be a tough one for many people, but it should still be considered as a golden rule of packing: don't pack anything that you don't need to. To make things more fun (or at least more official), have a box nearby for things that you'd like to donate and another box for the things that you will throw out. The moving process will be easier when you aren't hauling things around that you don't really want or need.
Delivery and Takeout Is Your Friend
Moving is stressful, there's no doubt about it. On a day like this, it's ok to let diets and old habits slide. For a stressful day like this, there's nothing better than some fast food delivered right to your door (or just from the drive-through). A good tip is to order some food for the first dinner/meal in your new place. That way, you'll feel less pressured to unpack all of the kitchen stuff and make a mess in the process. Having ready-made food to eat will also give you a bit of a break. It's fine to continue getting takeout for the rest of the next day, too, if you still have a lot of unpacking left to do.
Stay Calm
The most important moving day tip is to remain calm and collected. Having a plan and following these moving day tips is a great start for keeping calm. After all, not having a plan or not knowing what to expect is a surefire way to get flustered and panicking, which is definitely not fun. The movers you hired should be able to handle everything, so long as you've done your part already. Your new life will be exciting and something to look forward to, so just enjoy the ride!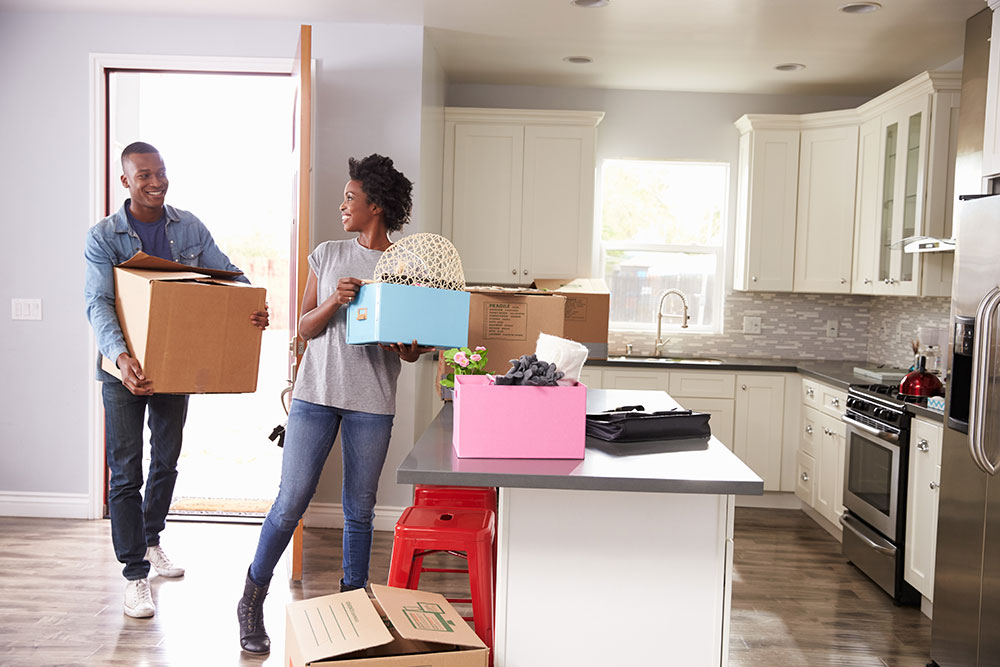 After Moving Day Checklist
After spending lots of time looking for the best apartments in KC, you've found the perfect one and have just moved in. Great! But the journey doesn't end here. The objective now is to get all the basics set up and begin settling in. 
Time to go grocery shopping: If you followed our advice above, chances are that you did plenty of eating out on moving day and the day after. Now it's time to do your stomach a favor and start eating some familiar food again.
Setting up your bed and bathrooms: Keep your sheets, pillowcases, and toilet paper in designated places. You will definitely miss these items if you don't have them on your first day. 
Change the locks: Don't let this rattle you – it's just a precaution since you don't know how many people had keys to your place before you moved in.
Check all the utilities: You want to make sure that all of the essential utilities are working. And don't forget to research later about ways to save on your utility costs.
Familiarize yourself with the rules: Every apartment building or condominium complex has its own rules for residents. Before moving in, you probably were familiar with the policies on pets, monthly dues, etc. Make sure that everything you were told is actually true. It's better to find these things out sooner rather than later.

Crossing the Finish Line
So here we are around a couple weeks after the move. Let's get you over that finish line and into the next phase of your new life!
Complete unpacking: You know that last box that you have yet to unpack? Yeah, get that sucker done, and you'll feel much better!
Copy some spare keys: One spare key per household member and an extra one to keep somewhere in the event of an emergency.
Get to know your new neighbors: Host a housewarming party! You can make a great impression on your new neighbors by giving them some party favors.
Save Your moving binder: If you ever have to move again in the future, your binder can serve as your roadmap for another adventure.